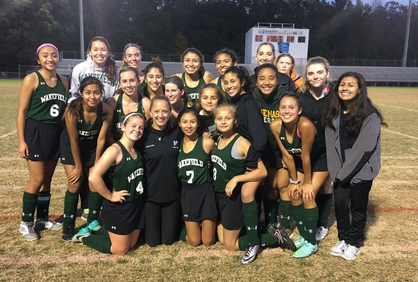 The 2016 season was one to remember for our varsity Field Hockey Girls. After one of the best regular seasons in school history, the girls just kept exceeding expectations. Our Warriors earned a spot for the first time in the Regional 5A North tournament.
Senior Lesly Sejas said of the team's attitude, "We tell each other 'let's show them what Wakefield is made of.'" They really showed the competition that Wakefield is ready to win.
The final games of the season were must see games. Entering the conference tournament as the #3 seed, the girls shutout #6 Falls Church to advance to the second round of conference play. The next day, they traveled to the #2 seed, Edison, to take on a very talented Eagles team. The girls fought long and hard, but dropped the semifinal game with a score of 2-0.
The ladies didn't let the close loss cause them to hang their heads. Instead, they went straight back to the field the next day to practice hard and prepare for their next opponent. Sejas said, " What really motivated me to push myself was something Georgia Allen said two years ago. I was a sophomore and she was a senior. She told me I could run faster than her. When no one has told you that before, it is really nice to hear. When everyone tells you no, it is a powerful change to hear yes."
That next opponent was Robert E. Lee, who had also lost their conference semifinal playoff game. The Warriors took on the Lancers in a battle for 3rd place, and more importantly, a chance at the Regional Tournament birth.
After a good day of preparation at practice the day before, the team had their eyes set on the goal. Our Warriors showed this confidence as they battled all game, exchanging shots and playing hard defense on the Lancers. As time expired, the scoreboard still read 0-0. The Warriors had one last chance, and they made it count. Senior Lesly Sejas hit the ball in from the corner, and sophomore Madison Holt saw her opportunity. She tapped it in from the front of the goal, giving her and her team the regional playoff birth they had their eyes set on the entire season.
"Keeping our season alive is what feels best about the win," said Junior Ena Robertson after the game. The win over Lee gave the Warriors a 3rd place finish in Conference 13.
(That is a nice bus, ladies.)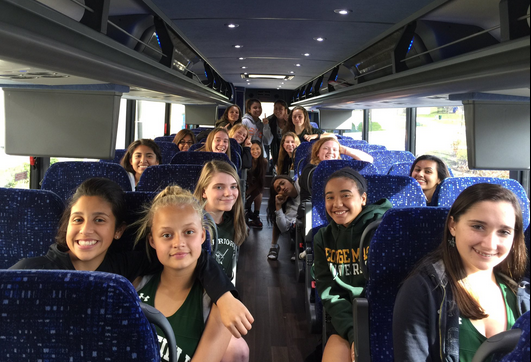 These ladies had their first Regional experience on Halloween. They played Patrick Henry Ashland at 5pm. The score was once again 0-0 for most of the game. In the final moments, PH Ashland scored a goal, making the score 1-0, PH Ashland.
The Warrior race to Regionals was over. Our Warriors should be proud of the sportsmanship on the field and the family on the team.