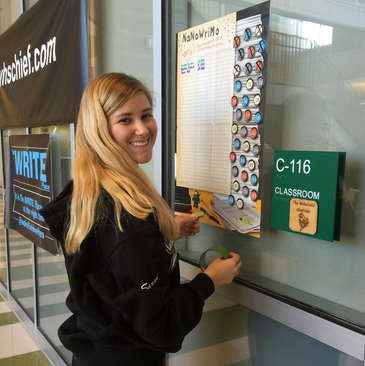 Photo found @wakefieldwrites
We're past the mid-point of NaNoWriMo, and if you are suffering from the infamous Writer's Block, here are 5 Tips and Tricks to help you come out on top! Finish the novel NOW; you can edit in January and February.
Take a Short Break! Your mind may be on overload with your ideas and deserves a break to re-group. Go grab a snack, get up and stretch, take a walk away from the computer for a few minutes to refresh your creativity. Any movement will help!
Write a Different Scene! Are you getting caught up on one little section and unsure of what to do with it? Skip a page and start the next scene. (Pro tip: Highlight the last word to remind yourself to come back later!)
Freewrite! Forget about grammar and development, just write whatever comes to mind and edit it later. This will help you get all your ideas out without worrying about the little details.
Stop Writing For Your Readers! The more you think about who's going to read your novel, and what they'll think of it, the more you'll trip up. Focus on where YOU want your story to go and just write it.
Write in a Different Place! Sitting at your desk, in your office, on your couch, at your dining room table, wherever it is, that can be constraining. Pick up your laptop and go to a Starbucks or Barnes and Noble, or just go sit out on your porch. New scenery will open up your mind to more creativity.
Hope these tips and tricks help you get through this November! Stay Creative, #warriornation! 9 days left!