Student Spotlight: Poet Shahad Almaharmeh Commands the POL Regional Stage
It was the day of the Poetry Out Loud Regional competition, a day that Shahad Almaharmeh had been eagerly awaiting since November. Everyday, you could find Shahad practicing her poems, whether she was doing homework, walking to her next class, or just sitting on a bench by her house, she would always be repeating the poem to herself in the back of her head. And, now that the day was finally here, she was proud to represent Wakefield High School.
Shahad had recited Personal by Tony Hoagland (poem found below…) in the Wakefield auditorium for the school wide competition. Her peers gave her a loud ovation when she was done. That carried her through the three months until the competition. Why did she choose this poem to memorize? "Some of the words and verses from the poem spoke to me. There was this period of time in my life, I really felt the same way as the author. I really know how he felt, and how he wanted me to interpret it" said Shahad. She took it personally.
Who is Shahad? She is the oldest of 5 children in her family, she is Jordanian and enjoys the simple things in life, taking walks, reading books, hanging out with her friends and loving her family. Her favorite subject is math and when she goes to collage she wishes to major in engineering.
When she arrived at Signature Theater, accompanied by Wakefield Staff members Ms. Dempsey and Ms. Sakdol, quiet murmuring was heard through out the space, almost like an insect hive. All the students were practicing their poems, but Shahad remained confident. All 15 contestants were called into the small room where they would perform, a pitch black theater with a blue stage.
Contestant after contestant, the competition went on, clapping and cheering was heard as each one of the contestants performed. Shahad was the last one to perform. (They had save the best for the last.) Shahad said "being done (with the competition) made me feel a big relief."
Poetry Out Loud (POL) was an experience that changed her life forever; "I felt special, I felt proud of myself, I felt that I had achieved something that will make my parents really happy" Shahad said with a big smile on her face. Shahad added that Wakefield students should try POL next year, "find a poem that you feel connected to; it's a great opportunity and you will have lots of fun, and the poem is gonna be in your head for a long time and will remind you of those good days."
Personal by Tony Hoagland.
Don't take it personal, they said;
but I did, I took it all quite personal—
the breeze and the river and the color of the fields;
the price of grapefruit and stamps,
the wet hair of women in the rain—
And I cursed what hurt me
and I praised what gave me joy,
the most simple-minded of possible responses.
The government reminded me of my father,
with its deafness and its laws,
and the weather reminded me of my mom,
with her tropical squalls.
Enjoy it while you can, they said of Happiness
Think first, they said of Talk
Get over it, they said
at the School of Broken Hearts
but I couldn't and I didn't and I don't
believe in the clean break;
I believe in the compound fracture
served with a sauce of dirty regret,
I believe in saying it all
and taking it all back
and saying it again for good measure
while the air fills up with I'm-Sorries
like wheeling birds
and the trees look seasick in the wind.
Oh life! Can you blame me
for making a scene?
You were that yellow caboose, the moon
disappearing over a ridge of cloud.
I was the dog, chained in some fool's backyard;
barking and barking:
trying to convince everything else
to take it personal too.
View Comments (2)
About the Contributor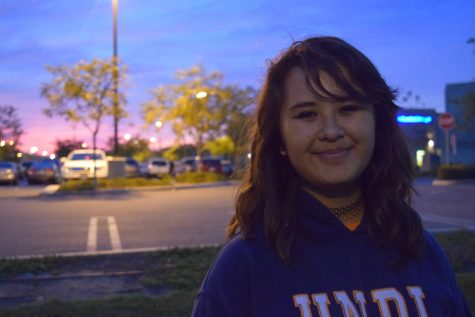 Diana Alejandra Rivas Arenas '18, Staff Writter
Hello, my name is Diana. This is my first year at Wakefield High school. I'm a junior. I'm a food enthusiast/animal lover. I love learning languages and...