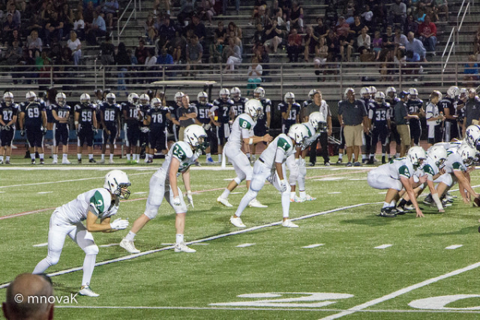 The Yorktown curse? Most people aren't aware of the 22 year losing streak the Wakefield Varsity Football team has with cross-town rival, Yorktown High School. The last time Wakefield beat the Patriots was in 1995, and the last time they beat them at home was in 1986. Ever since then, we have not been able to get that win. This season, we have enough talent on the team and a big win against W-L that may be the push Wakefield needs to break the Patriot curse.
The Warriors began the 2017 season strong with a 37-27 victory over the Washington Lee Generals! The game started off with a huge touchdown from senior wide receiver Xavier Taylor on the first play of the game. "As soon as I scored that first touchdown, I knew it was going to be a good night" said Taylor. He caught a screen pass from senior Quarterback Colton Poythress and used his unstoppable speed to dodge defenders and take it to the house with a 67-yard touchdown to take the lead early in the 1st quarter, followed by sophomore Luis Pinto kicking the extra point successfully, making it 7-0. The Generals did answer back with two touchdowns, and no extra points. At the end of the first quarter, Wakefield was trailing 7-12 to the Generals, but this small deficit didn't hurt the team's spirit. They came back in the second quarter, 17-12, taking the lead at the end of the first half. The Warriors fought through every play until the final whistle. Their hard work paid off in the end with the 37-27 victory over their opponent. "It felt great to beat W-L, and I'm looking forward to go 2-0 this Friday" said junior running back Rodney Lee.
The biggest difference this year seems to be the team's mentality. It was obvious at the scrimmages and the first game. Even when the players weren't playing, they were focused on the field, on their team mates, on hyping up the squad cheering when they hit their mark. There has been a lot of talk around Wakefield saying that this year could be different. The Warriors could end the many years of losing to the Yorktown Patriots. This year, with so much talent, we could beat Yorktown, move beyond, and have a strong season.
QB Colton Poythress said, "Everyone make sure you're there Friday, you won't want to miss us beat Yorktown and win the Arlington County championship." All of the players interviewed agreed, having fans in the stands really helps motivate the players to keep pushing when it gets tough on the turf.
Will Wakefield finally break the curse after so many years of falling short to their rivals? Come out tomorrow night and support the Varsity Football team! The Warriors will take on the Patriots @ Wakefield @ 7pm. You don't want to miss it.