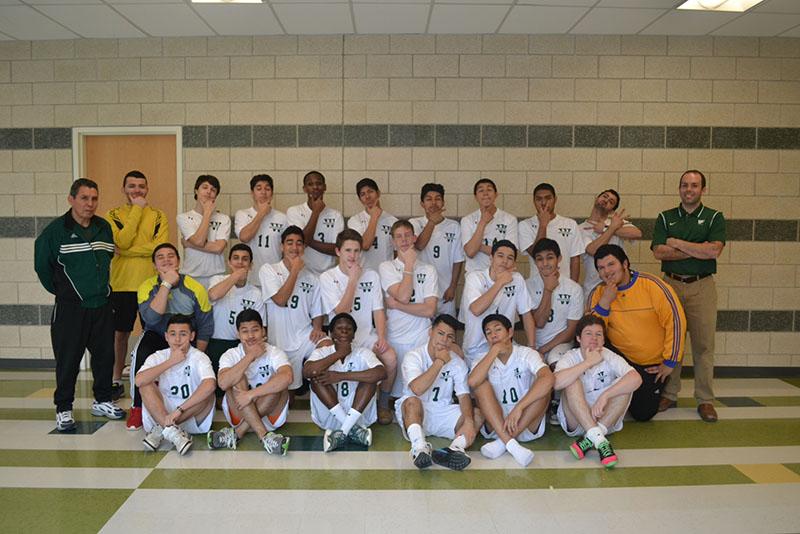 Photo by Lifetouch
Soccer kicked into season on February 24th, and the the team has had nothing but success since then. Last year, the soccer team had a very successful season, with their main claim-to-fame being their win over Washington-Lee (2-0). This team has been growing and getting stronger year by year, mainly due to their coach, Fernando Castro.
Most know him as the hard-working, busy head custodian. Little do people know, he played for the Team Petrolero De Cochabamba, a football club in Bolivia. When asked if he feels that his experience on a professional team has enhances his coaching, the answer is clear. Castro said, "I feel that I have taken the skills and team dynamics and applied them to our school team." Castro is held in high regard amongst the players as well as the faculty in the school.
The coaching staff was also joined by a new math teacher, Mr. Chauvenet, last year. He, too, has added his own expertise to the team and helped to increase intensity. Chauvenet has had five years of previous coaching experience, with both JV and Varsity teams. Chauvenet said, "the difference between being good and great is very small, so we have to put in the extra work to make sure that we end up on the right side of that difference."
Before the season started, every player attended intense conditioning. Every Tuesday after school, the team fought through CrossFit, a very challenging, full-body workout. Then, on Thursdays, they all came together again and did what they love most – played soccer.
The players feel this growth in the team. Some say this is the strongest team we've had yet. With talented players on defense, midfield, and offense, the team is looking forward to tackling the rest of the season. When asked to express the feeling after winning, Moya said, "It is a sudden rush of joy." That feeling makes all the grueling practice worthwhile.
Jordi Moya '15, said, "The strongest weapon our team has is speed as well as chemistry. We have been playing together since middle school. I know these guys better than anyone else." The chemistry and skill are clear on the field. The team faced Freedom High School in a scrimmage, and held them 1-0 for the majority of the game until the other team swiftly scored and the game ended in a tie. Moya said, "I feel like we played excellent together…We touched the ball well and the game was very fast paced." After the game, the Coach from Freedom High School said, "Wakefield has a very strong team. Their boys are fast, strong, and hold their ground."
Our warriors do hold their ground. They have won against South Lakes and Park View High Schools. The team has also tied against Langley and Washington-Lee. That is two wins, two ties, and three losses as of press time.
Check out the schedule of games, as well as keep track of the team's record here: http://www.wakefieldathletics.org/