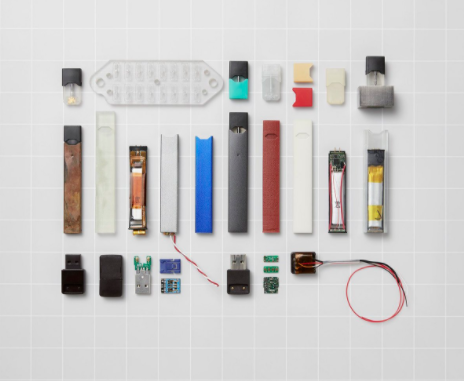 Photo found @JUULvapor
Many schools have tried to fight the "Juul" epidemic.  Some banned flash drives in school because the two look so similar. Others, like Yorktown, removed the bathroom doors completely. Even Wakefield is trying to keep bathroom entrance doors open to stop this trend.
The Juul is a vaping device with a smooth look that took over most of the market. With a high concentration of nicotine, Juul labs, manufacturer of the Juul device, says their product is intended exclusively for adult use. It looks appealing to high schoolers due to it's small size and how easy you can charge it and use it in class.
Even though it's labeled as a safe alternative for tobacco, that doesn't mean it's safe. Yes, it doesn't have tar or any other cancerous chemicals, such as cigarettes. Nobody knows exactly what the long term effects of the device are.  It's too new to the market and not that many studies have taken place.
All school officials agree that one fact is obvious; Juuls contain high amounts of nicotine, which makes them highly addictive.
A junior at Wakefield said, "I used to smoke cigarettes as a young teen, I was able to quit using the Juul. Although I knocked the habit of smoking cigarettes, I have gotten more addicted to nicotine due to the easy access of being able to use the Juul anywhere, anytime…the Juul is unsafe." His friend also added, "I've never been a smoker, but when I got exposed to the Juul, I couldn't help myself…I started having withdrawals and it got worse over time."
Juuls are way more popular than you might think. Surprisingly, a freshman girl had the same problem but she noticed it early. "I started using the Juul when I saw everybody having it in school, so I made my cousin buy me one, but I noticed that whenever I didn't have it, I felt really tired and depressed, which is not me usually. So, I decided to push through it and end the habit all together…[I] don't need this addiction in [my] life."
Wakefield substance abuse counselor Edgardo Santos said, "your lungs are not designed to have any water in them…Vaping in all it's ways leaves a lot of water in there, making it really harmful." He also advised everybody to avoid nicotine products in all their forms as the harms surpasses the benefits.
E-cigarettes and Juuls might help people quit smoking, but they don't end the addiction to nicotine. If you are now addicted, do your own research and talk to your health care professional, or the substance abuse counselor in your school (Mr. Santos is located in the Clinic.) to find out what works best for you.