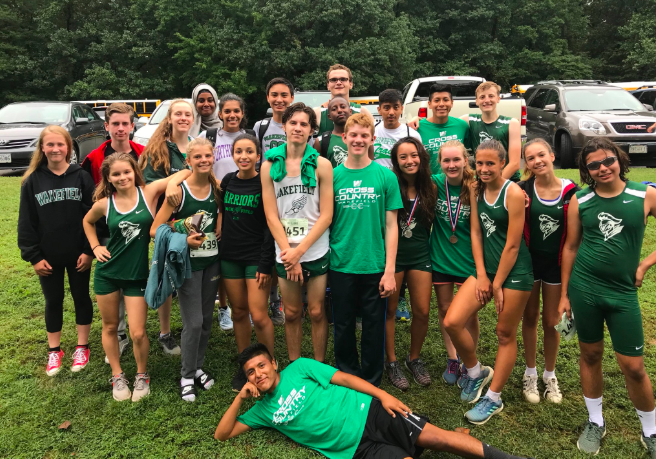 Found @patkumashiro
The Wakefield Cross Country team has been putting in the time, and their hard work is paying off. Both the boys and the girls teams are running fast at their meets. The teams compete within conference during the week, and at invitationals on weekends. Last weekend the teams competed at DC XC, an event that draws teams from all over the DMV, and the freshman girls took 2nd place! 
Cross country is mostly an individual sport. You run by yourself and compete against other runners to be the best of the best. However, the top 7 runners earn points (first place gets 1 point, second place gets 2 points, etc) and the team with the lowest score wins. The race is a 5K, that's a little more than 3 miles. The team really focuses on their pacing. Sophomore Kareena Stowers said, "If you run your first mile too fast, you have two more miles, and that's a long time. You will feel tired your second mile so you really push through and keep going which is really hard." Cross Country builds endurance and helps some people train for other sports. 
Despite all the hard work it takes, the team is looking good! Senior Jackson Ringger said, "This year is going really well so far. I'm excited to see how the team does, especially the girls' team, because we haven't had a strong girls' team in a while."
The team does a lot of running to prepare for their meets, but they do other workouts, too. Pool workouts are popular amongst the runners. They do water jogging, which is easier on their muscles, and races, too. Ultimate frisbee is also an occasional workout alternative. The constant running helps with their conditioning and the frisbee is just for fun!
When asked what people would find surprising, Kareena said, "The team is so fun. You wouldn't think it would be fun because you are out of breath and dying the whole time, and you are, but you're dying together so it's like bonding so you just make such good friends."
Sounds like a great family atmosphere that the cross country team has created! Our Warriors need all the support they can get while trying to finish those last miles, so check out the schedule here to find a time to go support them!
Good luck at the Bull Run Invitational tomorrow, Warriors!!