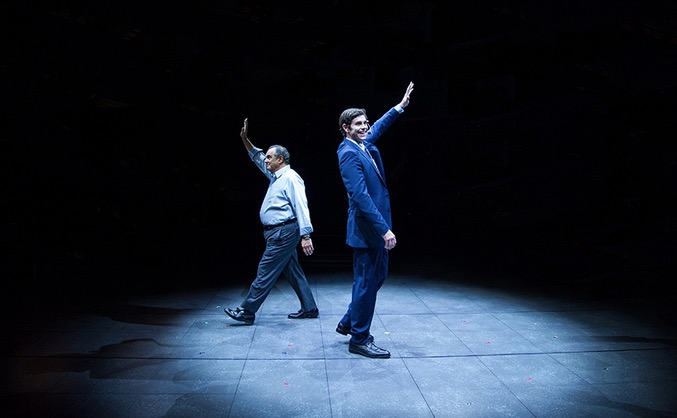 Photo by C. Stanley Photograph
Arena Stage takes us back in time to the 1980's. Junk, the show, highlights what it's really like to be a huge money maker and everything it takes to make it big in corporate deals. Not to mention, we see the inner-workings of betrayal and greed. Junk is in its closing week at the Arena stage!
Junk centers around the ruthless Robert Merkin (played by Thomas Keegan), who is preparing to take over a longtime family-owned company. The owner of the company, Thomas Everson Jr. (played by Edward Gero), will stop at nothing to protect the company his father built and passed onto him. The play shows us all the angles of a company takeover: the perspective of the owners of huge companies, lawyers, police, friends and family involved. Junk portrays an accurate story of how money controls lives and can destroy families.
Robert Merkin is the definition of an evil genius, his story begins and ends in two completely different ways. He knows exactly how to handle every situation in the financial system and will do anything to get what he want, even if it means pitting everyone against each other. Including the money-controlled leader, Merkin, we get to see the inner-workings of running a huge corporate business in the 80's through the eyes of everyone involved; the owner of a family business, a lenient lawyer, an insightful journalist, and more.
This is the last week to go and see the show Junk at Arena Stage in Washington DC. To learn even more about the show and get tickets go here. 
This is a show you don't wanna miss!