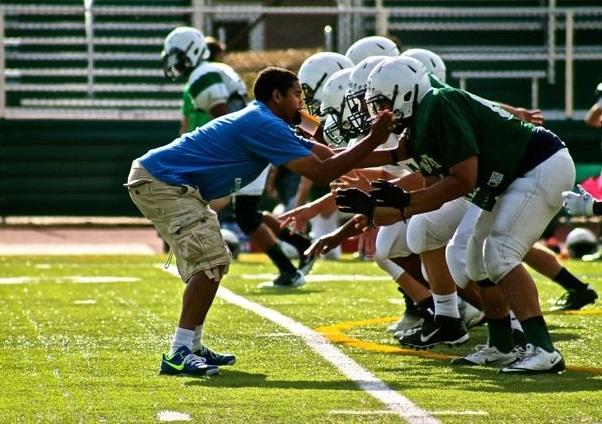 Ciera Johnson '16
When Wayne Hogwood made the decision to take over the role of varsity football head coach at Wakefield, he knew he had a tough challenge ahead of him. At the midway point of his second year coaching, the culture of football at Wakefield already seems to be transforming.
Coach Hogwood was an assistant coach at Wakefield's crosstown rival, Yorktown, for 7 years before deciding to become the head coach at Wakefield last year. Hogwood understood he was moving from a team with a 10-0 record to a team with a 0-10 record. The decision for Hogwood was difficult, but he recognized his opportunity and seized it.
One reason he wanted to help change Wakefield football was because he had his own experiences on the field as a Warrior. Hogwood started as Quarterback for the Warriors from 1998-2000. Among the players asked, the main reason for the improvement this year seems to be the players' overall commitment to the team. The Warriors returned 19 starters from last year's lineup.
"We've got some guys that have been committed and in our program for a year now. We're a little bit smarter, stronger and older from last year. I fully expect us to build on the three wins we got last year." said Hogwood before their first game of the season. They are already doing just that.
Halfway through his second season at Wakefield, the Warriors stand tall, holding a 5-1 record. The Warriors cruised through their first four games of the season, and recently dropped a hard fought game to 6A powerhouse, Hayfield. The 4-0 start for the Warriors was the first in school history, and the longest winning streak since 1986. Now, with the 26-25 victory last Friday against Falls Church, Warrior Gridiron has proven again that a winning football team lives at 1325 S. Dinwiddie St.
"We don't take any shortcuts. We play the game the right way and most importantly, we want to get better. As long as we continue to challenge ourselves on every rep of every practice, we will continue to improve and win games," said sophomore Linebacker George Brooks.
"The main difference is we worked hard during the off season. We spent all of our time in the weight room, and the benefits are already showing," says Fullback Kareem Hall. The team worked to improve their game between the months of February and September,  consisting of crossfit training, team practices, and 7 on 7 tournaments.
Coach Hogwood ensures the team uses all of the available time they have to improve their football knowledge. They meet every Saturday morning to review and discuss the film of the game from the night before. That way the team knows how to improve their game when they start practice the following week.
Wakefield's last winning season was over three decades ago, in 1983. "We want to play more than 10 games this year," Hogwood said. "If we win more than five games, then we're guaranteed a spot in the playoffs. This year, we want to go on a playoff run."