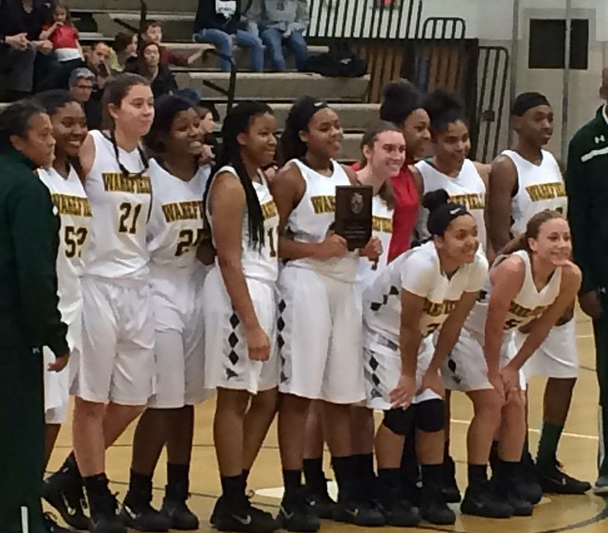 The Girls Varsity Basketball team traveled to Falls Church High School over winter break to play in the Joe Cascio Holiday Tournament. In their three games, they defeated West Potomac and Dominion before falling to a tough Langley team in the championship. The girls showed that they mean business on the court, finishing the tournament in 2nd place.
Round 1 – Wakefield vs. West Potomac Tournament Game Recap
On December 27th, the girls took on West Potomac high school in the first round of the tournament. The Warriors led 10-7 after the first quarter, and didn't slow down after that. They kept the high tempo and outscored West Potomac in every quarter except the fourth. The girls ended the game with a final score of 38-26.
Scoring was spread out among the girls. The leading scorers were senior La'Shea Thomas with 10 points, sophomore Summer Matlack with 9, and Lyric Hatcher with 8.
Round 2- Wakefield vs Dominion Tournament Game Recap
Without a day of rest in between, these ladies were back in action at FCHS against Dominion High School from Sterling, Virginia. The girls played with confidence and controlled the game on offense and defense. After a well played game, our girls came out on top 45-35, and represented #warriornation. Three year varsity starter Olivia Bayne said, "we came in the game with confidence, knew what we needed to do, and won the game."
Round 3- Wakefield vs. Langley Tournament Game Recap
Our Warriors were matched up with a tough Langley team who had only lost one game prior to the tournament. The girls fell behind earlyLangley had them at 8-0, and weren't able to catch up quickly enough before time expired. The girls fought hard and hustled all game; they never gave up until the final buzzer sounded.
High scorers in the game were Hailey Finlay with 8 points, Summer Matlock with 7 points, Lyric Hatcher with 7 points, and La'Shea Thomas with 4 points.  The final score was 29-50. The Warriors walked away with a record of 2-1, the best of the Holiday Tournaments for APS.
Our Warriors took home second place in the Joe Cascio Holiday Tournament! The second place finish was the best finish they have had in a holiday tournament since 2007 when they were runners-up at a holiday tournament held at Woodbridge High School. At the conclusion of the tournament, #warriornation was proud to hear that sophomore Point Guard Summer Matlack was selected for the All-Tournament team!
Our Lady Warriors have four remaining home games this season! Their next home game is Tuesday, January 20th against Falls Church. Let's pack the stands, @whsshuperfans and #warriornation!