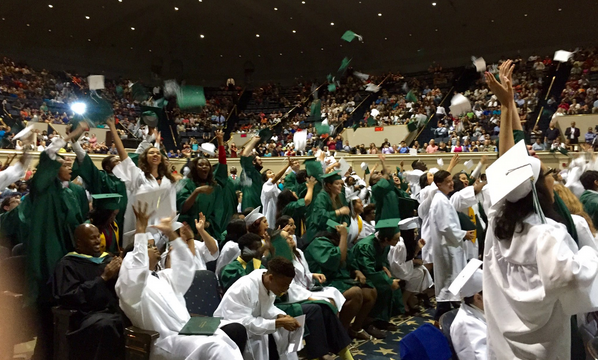 Seniors Share Last Words of Advice
June 24, 2016
Its crazy to see how fast senior year has gone. Looking back to freshman year at the old building, Wakefield has not only changed environment but also has grown in size. This  graduating class is the last class to ever have attended school at the old building. 
Last night the #Classof2016 become Wakefield Alumni. It has been a journey filled with lasting memories and friendships.
Here are some last words from our seniors:
Nick Hattrup said, "stick to your values, as college becomes a pressing thing for everyone the stress can make people freak out; stick to your path and trust that everything will be fine."
Bryana Ortiz said, "manage your time wisely in the beginning; don't procrastinate, unless you want the extra stress and lack of sleep when everyone else is having fun in June."
Giovani Nuñez said, "apply to as many scholarships as you can, get to know Clisham."
Alexi Amaya said, "be on top of senior project or you will regret it later."
Martha Waltengus said, "make sure to study for your AP exams and don't be afraid to ask questions."
Nishan Barua said, "it is not about the number of friends you have, but the friends who stick with you."
Mistire Kifle said, "good luck with Government class because you need it to graduate."
Red Taye said, "play hard but work harder."
Kacy Tucker said, "make sure to play  team sports if you haven't already; you make a lot of friends and memories."
Youssef Errami said, "if you work hard, it will all be worth it."
Bobby Aselford said, "spend everyday in Clisham's because you need that money."
Hababo Jiam said "senior year went by slowly and painfully because of the AP classes."
Sierra Cass said, "challenge yourself and be open to new opportunities and experiences."
Remember, everyone will experience senior year the way they chose to. You make it what you want it to be. So live it up.