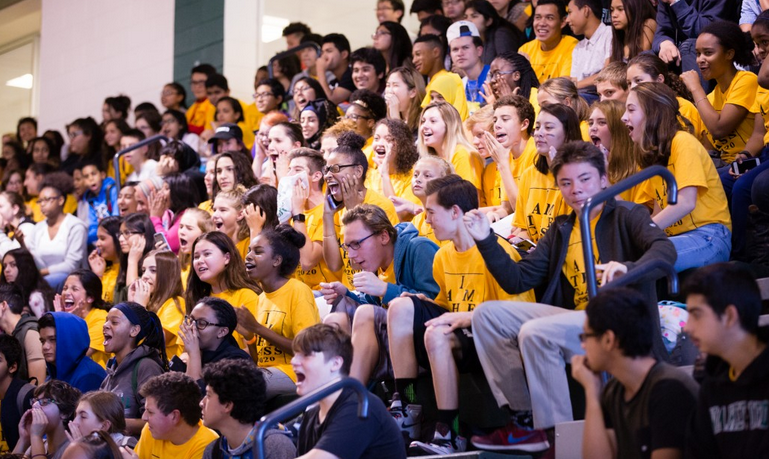 Attention All Freshmen: Things You NEED to Know to Survive This Year
January 12, 2017
Are you a freshman? Are you struggling? Are you still trying to figure high school out? If so, here are 20 tips for our class of 2020!
Grades your freshman year DO MATTER! Colleges will look at your entire GPA throughout your time in high school.
Your attendance matters, too. So that means you should consider getting to class on time next time instead of walking down to A lunch to buy some cookies from the cafeteria.
This is your year to try new things! Such as sport you've never played before or a club you'd never think of joining before. Find something you're passionate about!
Or, if you're really good at a sport, Wakefield is the place for you! Stick with that sport and try out!!

#WARRIORNATION

Do NOT wait until the end of the quarter to bring your grades up because it's harder to pick up the slack last minute then it is to try to maintain your grades all quarter.
Use every resource you can find for your grades. Such as lunch labs and after school study sessions. WATCH WAN to see WHERE THEY ARE.
Don't be afraid to ask for help! If you have questions, ask them. If you're struggling, get help. The teachers are here for you!
Those missing assignments will add up. Know if your teacher accepts late work or has a late policy. But you should be getting your work done on time. 
Procrastination has got to go. Don't wait until the last minute to finish that big project. Teachers will NOT accept it! (You're in high school now.)
Find a way to balance everything. You should create a schedule that fits to you and everything around you.
Make new friends! Don't stress over not talking to people you used to talk to everyday. Meet new people and find your crowd.
Respect the upperclassmen: They're really not that bad.
The hallways are meant for walking and getting to class. So don't just stop in the middle of the hallway to talk with your friends. Keep it moving!
 If you do or say something embarrassing, PLAY IT OFF! Most likely no one saw it or picked up on it so don't be stuck on it!
 It may seem inevitable but try to stay away from any and all drama. Unless we're talking about Wakefield's awesome drama program with Mr. G of course! #TakeItToTheStage
Get INVOLVED! Follow the events going on at Wakefield. Come support our sport teams and become a superfan!!
Security and the administrations aren't out to get you, it's their job to make sure you're doing what you're supposed to be doing and be where you're supposed to be.
Make good choices. You have more freedom now, so use it wisely!
Remember to breathe in and breathe out. Take it day by day! Sometimes high school can be overwhelming but relax. You're going to have a great year!
Make the MOST out of this year! Have fun and make every day a good day.
With this advice and being almost half way through the year, finish this year off strong! (Just a reminder: 1st semester ends on February 2nd. You can make it!)