#BlackGirlMagic is Real, and it's HERE!
February 9, 2017
"We are all females, all minorities, all black girls and it really showcased black excellence at Wakefield"  said Melale Hailu, as the four other girls nodded in agreement.
On Tuesday night, junior Xavier Taylor gave sophomores Khalia Pulliam, Araiya Mitchell, Melale Hailu, Brianna Alexander, and Muram Mohamed the idea to dress as Black Panthers for Decades Day. The Black Panthers  started off as a reaction to police brutality in the 1960's but quickly became a revolutionary movement. "Ours was a reaction to Spirit Week, just like the Black Panthers were reacting to police brutality" said Melale Hailu.
"
I might be wearing black [on Friday], but the blackout on Friday doesn't stand for rights, while this stands for something"
— Araiya Mitchell
When Melale Hailu first heard about the idea she thought it was "a really great idea because you always see people coming as the generic things, but this brought a different point of view that has an impact and significance at Wakefield."  Khalia Pulliam said that, "we are girls and that takes it to a whole new level. We're not just going to hope for equality we're going to FIGHT for it."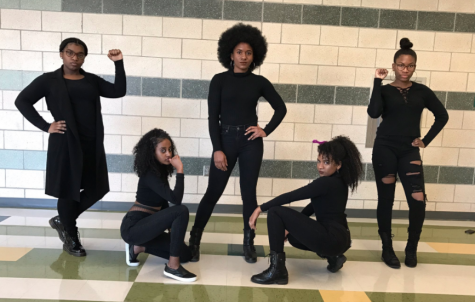 During their lunches the girls all came together for an extremely powerful picture. "It took us a while to get all the pictures and to get all the poses" said Araiya Mitchell. Brianna Alexander said that being in the middle made her "feel like she embodied the whole essence of the Black Panthers." Muram Mohamed said that she "put the afro pick in her hair so that people would get the idea." Mohamed also said that after she posted the picture "her friend showed it to her mom, who then showed it to one of her friends who was involved in the Black Panthers Movement."
Doing this "really showcased the black excellence and girl power we have here at Wakefield" said Melale Hailu.  Muram Mohamed said that it was important for her to be a part of this "because I'm black, I'm Muslim, and I'm a girl." Khalia Pulliam said that "it makes people have hope about our generation."
"
You don't have to be black to fight for black rights."
— Khalia Pulliam
Araiya Mitchell also said that "We are in 2017 and we are moving backwards, not forwards. We have to bring back those groups [that stood up]" for people's rights. According to Brianna Alexander, "this is not just Black history this is history."
"Even though no one really noticed what we were doing at school, this shows that we needed to do this. No one would have expected a couple of sophomores, yet alone girls, to do it. But we did it, and it had an impact, and made people truly feel something" said Melale Hailu. Brianna Alexander said that "Black is beautiful and we are just exploring the essence of the Black community…we're just getting started."
"We are using social media as a base to spread Black culture" said Brianna Alexander. While a "hashtag means something, [it] doesn't beat going out and actually doing something" said Khalia Pulliam. Both Brianna Alexander and Araiya Mitchell agreed that the best thing is "going to events and being a part of the movements." "I like standing up and trying to help", added Araiya Mitchell.
These five girls really embody the essence of #BlackGirlMagic, and we can't wait to see how this impacts Wakefield in the future.
Keep striving for greatness, ladies. #ShePersisted