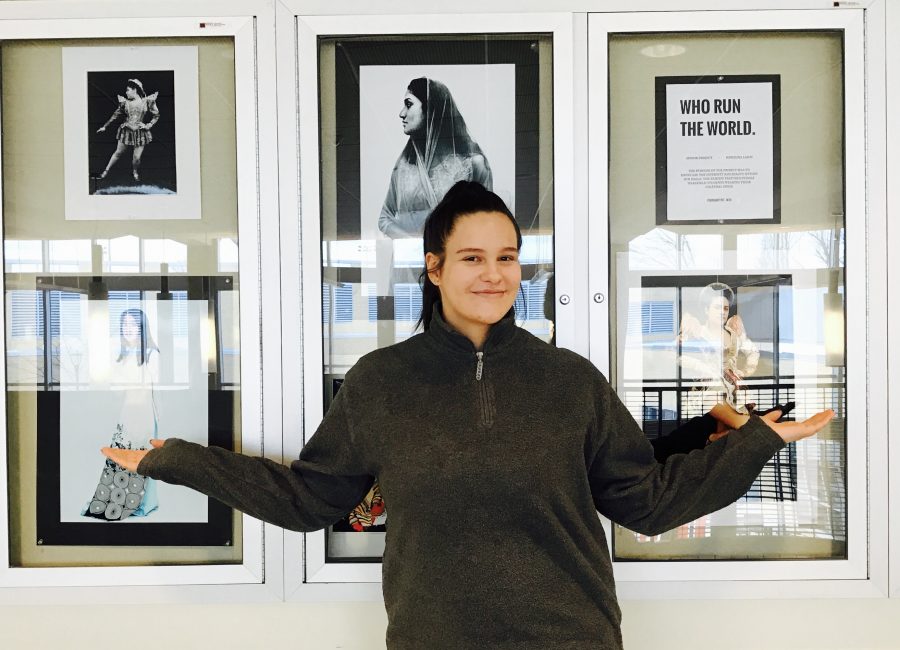 Karolina Lajch Showcases the Diverse Women of Wakefield
April 5, 2017
Senior Karolina Lajch, like many other seniors, found the idea for her senior project when she saw something "in the news about euro-centric beauty" and the way that "the media glamorizes European characteristics."  With this in mind, she set out to showcase the diversity we had here at Wakefield and use her project as a way to empower women.
She started out by reaching out to all of her "friends and friends' friends to try to get as many cultures and backgrounds together as possible" said Lajch. The hardest part for her wasn't finding people willing to be involved, but "finding people who had cultural dress." Junior Katelyn Ly, had had to ask her cousin for the áo dài, which "directly translates to long shirt… it's really silky…Kind of like a long tunic with long pants" according to Ly.
Once Lajch had finally gathered all the people that she could she organized a photo shoot, her four years in Ms. Davidson's class began to pay off.  As Lajch took portraits, she told people "to just be themselves" and after that the "beautiful pictures just kept coming." Ly agreed that the key was to relax. She said that "my friends made it hard to stop laughing but once I relaxed everything went smoothly."
Senior Teresa Larios said that she got involved when "Karolina came and talked to me because she knew that I did Bolivian folk dance." Larios went on to say that she thought the project was "really cool and nice to share the history, and have people interested."  Larios said that "for me it was a little awkward because I had never modeled before." For Ly, the weirdest part about wearing her áo dài were the looks she would get in school. "I was in the bathroom changing, and my friend Catherine was there, and together we just ran from the bathroom to the photo room" recalls Ly, as she lets out a chuckle.
When Larios saw the final product she said that "I really liked them, I loved them." If you want to check out more of Karolina Lajch's photography stop by the big glass showcase in the C-hallway outside of the ASL room!