Way Too Early 2017 MLB Award Predictions
April 3, 2017
With the 2017 MLB Season upon us, it is the perfect time for SUPER early Predictions. Below I will predict each major award winner and the 2017 World Series Champion. I will try and stay away from safe picks, because where is the fun in that. Right?
Gold Gloves: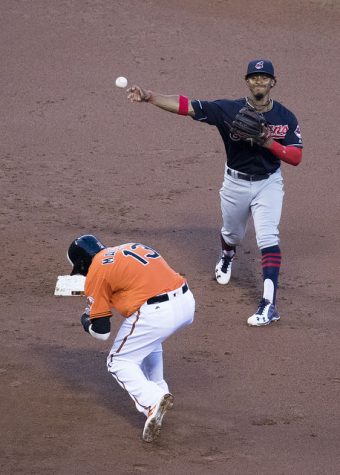 American League: 
National League:
The Gold Glove race in the league aways gives surprises in some positions. But, first I would point out the obvious picks that need absolutely no explanation. Players like Robinson Cano, Manny Machado, Francisco Lindor, Kevin Pillar, the new rich-man – Kevin Kiermaier, Yadier Molina, Javier Baez, Nolan Arenado and Brandon Crawford. Most of these players all have Gold Gloves in their past and can't be bet against. There are names, though, that don't pop-up as much.
We can all agree that besides Royals catcher Salvador Perez, Gary Sanchez is the best defensive catcher in the AL. Even in the small sample size we saw Sanchez play, we saw what he can do behind the plate. Especially with a cannon for an arm. Sanchez had a 41% Caught Stealing percentage, the best behind the prevously named Salvador Perez (48.05%) and (back then teammate) Brian McCann (45%).
In the NL, speedster Billy Hamilton is the owner of some of the greatest catches in the last couple of years. (Just look at this video! http://atmlb.com/2nYZRhl.) The dude can absolutely fly!! He covers a lot of ground out there on CF. And I expect a big year defensively from the Mississippi native.
Also, Pirate Starling Marte has, in my opinion, the best arm in the league (No disrespect to Yasiel Puig). The speed of his throw and the accuracy is unbelievable. And with his move from Left Field to Center Field this year, expect more ground coverage and more throws from "Mart'ay'-Partay".
Silver Sluggers: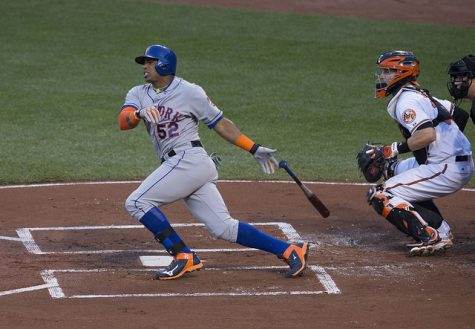 American League:
National League:
The Silver Slugger Award is the award given to the best offensive player at their respective positions. Every year this award list is filled with MLB's All Stars and superstars. Players like Corey Seager, Yoenis Cespedes, Daniel Murphy, Miguel Cabrera, Mike Trout, Mookie Betts all won this award last year. This year's surprise players, include hitters that are either up-and-coming or never have won this award.
Players like Gary Sanchez, Jt Realmuto and JD Martinez are my sleeper picks for this year. Everybody knows about Gary Sanchez and the show he put in for Yankee fans in 53 games. "El Gary" rocked the MLB slashing a whopping .657 Slugging % (SLG) and a ridiculous 1.032 On-Base-Plus-Slugging (OPS). Not only that, Sanchez hit exactly 20 HRs last season in just the small sample mentioned earlier. The Bronx is eager to witness a full Gary Sanchez season.
My "riskiest pick" is the other catcher on this list; Marlins property, JT Realmuto. JT had a solid .303 batting AVG. His SLG wasn't that good, especially in huge ballpark like Miami, you expect for JT to be hitting doubles like crazy. For him to win the SS Award he would have to bring up that SLG a hundred points.
JD Martinez is a fierce hitter in the stacked lineup of Detroit. Martinez as everybody knows has the potential to be an MVP caliber player. With that kind of power, and having the best hitter in the universe as your teammate (Miguel Cabrera) to learn from; JD has the ingredients to be a future MVP. JD had an injury year last year, but if you go back to 2015, Martinez hit 38 HRs, had 102 RBIs and posted an amazing .535 SLG. The numbers speak for themselves.
Rookie of The Year: 
American League: Andrew Benintendi OF; Boston Red Sox
National League: Dansby Swanson SS; Atlanta Braves

The Rookie of the Year is somewhat difficult to predict. You never know who's getting called up and when. For example last year in the AL, nobody expected Detroit's Michael Fulmer to win the AL ROY. This year the AL, I believe, is more predicatable. Boston property Andrew Benintendi was called up last year, but didn't meet the rookie requirements to qualify for the award. In only 34 games, Benintendi hit .295 and slugged a .476, solid for a non-power hitter on a small yard in Fenway Park.
In the NL, former first overall draft pick Dansby Swanson will take the honors. IN only 38 games, Swanson hit .302 with an OPS of .803. His defense though, is what makes Dansby Swanson more of a special player. Throughout his college career, Swanson was known for his stellar defense at the SS position. And with Andrelton Simmons gone, the Braves are more than happy to have another defensive monster. Expect to see Dansby on the highlight reel at least once a week.
Cy Young: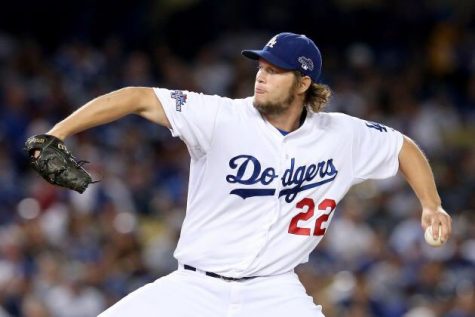 American League: Felix "The King" Hernandez; Seattle Mariners
National League: Clayton Kershaw; Los Angeles Dodgers
The Cy Young race in the AL is nothing short of unpredictable. Yes, they are some pitchers who are more in the conversation than others. This list includes pitchers like; Justin Verlander, Chris Sale, Corey Kluber, and my 2017 pick Felix Hernandez. After his 2014 season, which was nothing short of spectacular, he has seen a decline in performance. Posting ERAs over 3.5 both 2015 and 2016. Yes, not bad. But everyone knows that isn't King Felix. I expect a BIG season from the King where he will post a 2.6 ERA and win over 15 games. The last time he won 15 games was 2014, the year he should've won the Cy Young, but lost it to Cleveland Indian, Corey Kluber.
As for the NL, do I really need to explain myself why I chose, arguably, one of the greatest pitchers of the last 30 years (Besides Hall of Famers Pedro Martinez and Randy Johnson). Come on people. It's Clayton KERSHAW!
Most Valuable Player: 
American League: Carlos Correa SS; Houston Astros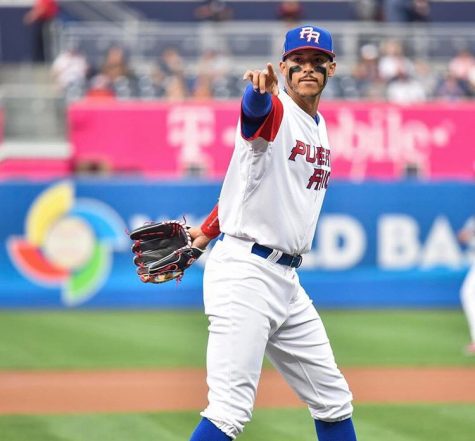 National League: Yoenis Cespedes LF; New York Mets
The MVP race is no doubt the most entertaining race in every sport. That's no different in baseball. Almost every team, of the 30, has at least 1 player that can win the award. For the AL I have chosen Puerto Rican phenom SS, Carlos Correa. The former Rookie of the Year and 1st overall pick, has posted 22 and 20 HRs on his first 2 seasons in the Bigs. Last year, he batted in 96 runs. Of course with a hitter like Altuve in front of you, it is almost assured that you'll have someone in scoring position every time you go up to bat. Before the 2017 season, Carlos Correa participated in the amazing World Baseball Classic for team Puerto Rico. Correa went off during the tournament. Posting a .333 batting AVG and crushing 3 bombs. Correa looks for a big season in the boom-box that is Minute-Maid Park in Houston.
Yes. I know some of you Nationals fans won't be happy reading this, but you can deny the fact that Yoenis Cespedes is due for an MVP award. Since joining the Mets in July 31st of 2015 has been a force at the plate. Combining his '15 and '16 seasons, he has hit 67 HRs and posted 191 RBIs. He and teammate Noah Syndergaard are the reason why the Mets have made the playoffs in back-to-back years and winning the NL in 2015. I don't expect anything less than a 30 HR 100+ RBI season from "La Potencia".
World Series Match-up & Winner:
American League Champion: Seattle Mariners
National League Champion: Chicago Cubs
2017 World Series Winner: Seattle Mariners
No surprise in the NL. I don't think any team in the NL can match-up with the defending World Champ Chicago Cubs. The depth and talent that the Cubs have is unbelievable. With a loaded infield, the Cubs are a safe pick for the NL.
In the AL though, I went with a surprise pick; the Seattle Mariners. The Mariners are a team that is waiting to explode. With the pieces in place, they are looking to break MLBs longest World Series drought streak. They one of MLBs best hitters in Nelson Cruz, Jean Segura and Robinson Cano. Also, as you read before I expect for King Felix to bounce back, win the Cy Young and bring a championship to Seattle. They also have an amazing young closer in Edwin Diaz, who will help greatly on World Series run. So, watch out for the Mariners this year, they are hungry and have the pieces in place. They just have to execute.
So sit back and enjoy the long ride that is the MLB Season. It should be a fun and entertaining 2017 season.