Wakefield Crew Makes a Statement at the Regional Park Regatta
April 7, 2017
It was a cool and blustery morning when the Crew team pulled into Sandy Run Regional Park just as the sun was beginning to rise. Little did these early risers know, that they would be making history later in the day.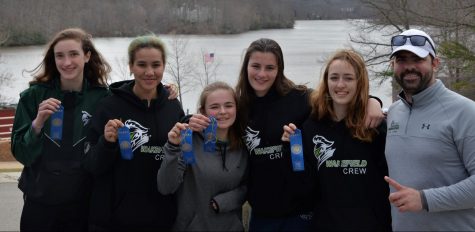 The first race of the season was done by the Women's Junior Four (Stroke: Astrid Henkle, Rebecca Nance, Liz Kelly, Sophia Dohrety, and coxswain Parker Michos), and they set they team up for a winning day by coming in first place by open water with a time of  06:18.9. This is the first time a Junior four has placed so well in a regatta in at least four years.
Junior  Astrid Henkle said that: "I'm so proud of how far the women's team has come in the past four years that I have been on the team… we are going to put ourselves out there and show that Wakefield should no longer be taken lightly because we come to compete."

Next was the Men's Lightweight Four (Stroke: James Brady, Gannon Swanston, Cameron Garama, Logan Harms, and coxswain Forrest Veit), though they have a new lineup, they are just as competitive as last year. They came in with a solid third place finish with a time of 07:27.6 and are showing real potential. Junior James Brady said that in order to place higher at the next regatta "the one thing we really need to work on is focus. Sometimes we get frustrated, and when this happens the set gets off and that can cost us a lot of time."
Immediately after that came the Women's Lightweight Four (Stroke: Sarah Vest, Antonia Kotliarov, Lee Frederick, Grace Peterson and coxswain Lynne Faris) who won their race by the biggest margin of the day with twelve seconds between their first place time of 07:16.4 and Langley, who came in second. This is the first time that Wakefield has had two women's varsity boats both take a first place win by a wide margin. Junior Grace Peterson said that: "I am so proud of my boat and I can't wait for the rest of the season."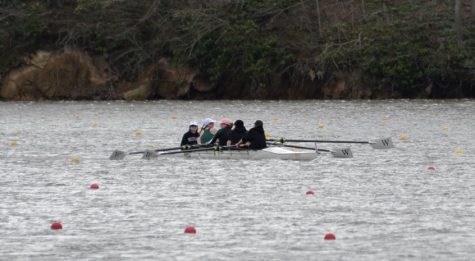 The Women's Novice Four (Stroke: Anna Rodgers, Leanna O'Driscoll, Sierra Saunders, Maria Diaz, and coxswain Payton Hanson) had a rough start to their season but still pulled out a third place finish. We spoke with the women's head coach, James Augone, and he said: "Our novices are dedicated and strong…they got their first taste of racing experience this past weekend in tough conditions. …I believe their hard work will pay dividends in the coming weeks."

Finally closing out the day was the Men's First Eight (Stroke: Adam Lane, Nick Belvin, Ben Wierzbanowski, Richard Capitan, Angus Long, Musse Yimer, Rory Cameron, Nathan Garama, and coxswain Marcus Garrettson) who had two races instead of one like all the other boats. They had the fastest qualifying time and took first place in their heat with a time of 05:39.7. In the final they came in with a solid fifth place finish with a time of 05:58.9, making history by being the first Men's First Eight to make it to finals.
When we spoke with the Men's Varsity coach and Wakefield Crew Alumni, Daniel Voightsberger he said that: "I think this is the strongest and fastest team across the board that I've seen at Wakefield in my time here. Ultimately, I expect a lot out of this team, and I think that at least four boats have a chance to medal at States and beyond."
Come out this Saturday to Sandy Run Regional Park to support the Crew Team at the Walter Mess Regatta!