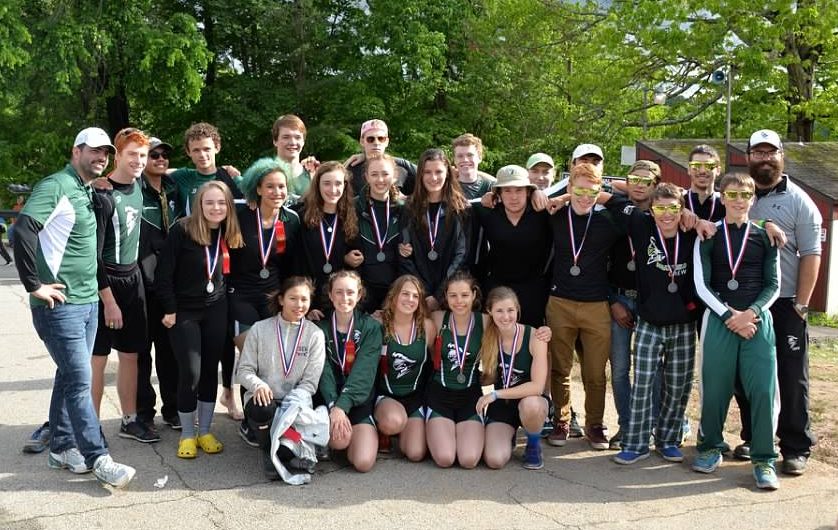 Rowing Sweeps at State Championships
May 18, 2017
The past two Saturdays at Sandy Run Regional puts the tops off what has already been a fantastic season for the Rowing team. For the first time ever three boats qualified for SRAA National Championships.
The Men's Junior Eight (Stroke: Ben Rafky, Musse Yimer, Alex Pearson, Jared Smith, Anton Katula, Patrick McCoy, Sam Kelly, Ruben Matos, and coxswain Parvez Mostafa) made history on the first day of State Championships by being the first eight from Wakefield to ever make it out of heats and into finals at that event. They had a solid sixth place finish.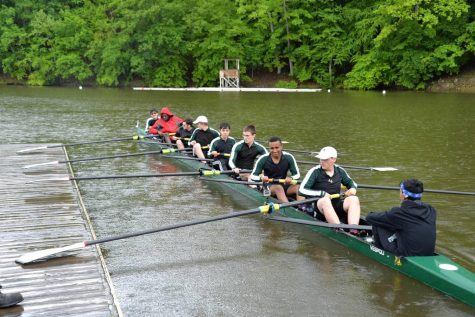 The Men's Novice Four (Stroke: Harry Westfall, Alan Hernandez, Gage Swanston, Dennis, and coxswain Payton Hanson)  and the Women's Novice Four (Stroke: Anna Rodgers, Leanna O'Driscoll, Sierra Saunders, Maria Diaz, and coxswain Kaia Martin) both came in fifth place in their heats and did not advance to finals. Both boats had solid races but the competition was fierce.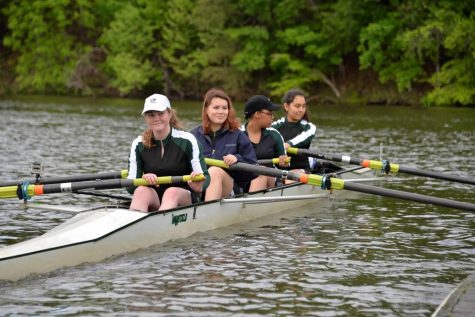 The Women's Junior Four (Stroke: Astrid Henkle, Rebecca Nance, Liz Kelly, Sophia Doherty, and coxswain Parker Michos) had a very successful day. They easily came in first in their heat with open water between them and second. Later on in they day the battled it out with Great Bridge and West Springfield and finished second in the state, locking in the first win for the day. When we talked to junior, and four year rower, Astrid Henkle about how it felt to win after four years of work and dedication she said: "It was awesome. It made all those years seem worth it".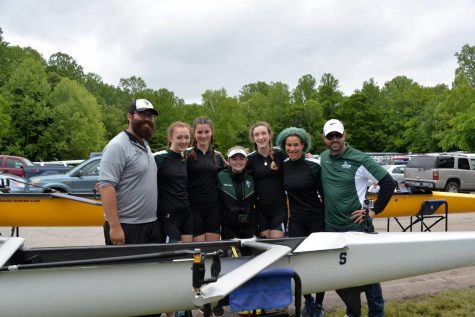 The Women's Lightweight Four as they leave the winners dock.The Women's Lightweight Four (Stroke: Sarah Vest, Antonia Kotliarov, Lee Frederick, Grace Peterson and coxswain Lynne Faris) came in second place in heats behind Forrest Park, taking it easy for the first race and saving their legs for their finals. It certainly paid off later in the day when they finished second in the state. All the girls were overwhelmed with emotion and are so happy to have done as well as they have. Sophmore, and first year rower Antonia Kotliarov said that "Going to Nationals makes me feel accomplished and happy for our whole boat."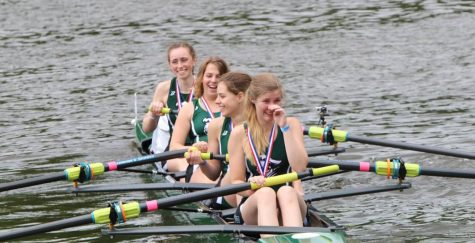 The Men's Lightweight Four (Stroke: James Brady, Gannon Swanston, Cameron Garama, Logan Harms, and coxswain Forrest Veit) locked in a spot in finals by coming in third in their heat. For their last race of the day they duked it out with Oakton in finals and came in second by two-tenths of a second.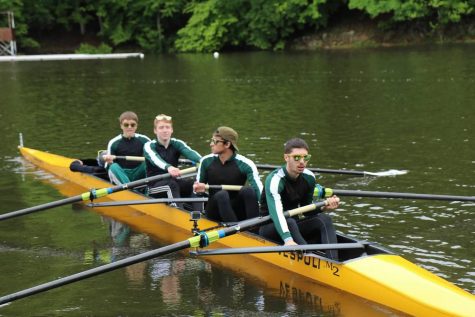 The Men's First Varsity Eight (Stroke: Sam Fontaine, Nick Belvin, Ben Wierzbanowski, Richard Capitan, Angus Long, Adam Lane, Rory Cameron, Nathan Garama, and coxswain Marcus Garretson) put up a strong fight in heats and missed out on Grand Finals by four-tenths of a second. They moved on to Petite Finals and took second place making them ranked eighth in the state. "It was kind of devastating to be beaten by crews that we had won against earlier in the season but getting the bid to nationals feels like a second chance" said junior Nick Belvin on their performance at states and looking to the future.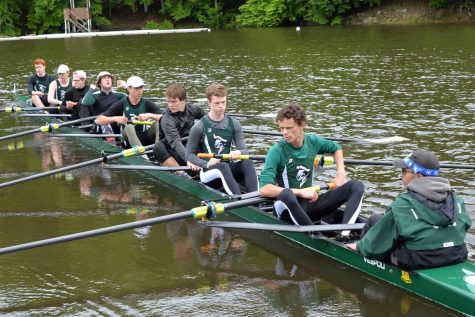 All in all, it was  great two days for the rowing team, but their season isn't over yet. Over the next two weeks they will be traveling to Philadelphia, Pennsylvania to compete in the Stotesbury Cup Regatta, which is the biggest high school regatta in the US. The three boats who came in second at States and one who got in on a petition (Women's Lightweight Four, Women's Junior Four, Men's Lightweight Four, and the Men's First Varsity Eight) will also be going to Camden, New Jersey to compete in National Championships.