Story Time: The Weird Reports of the World's Wars
June 8, 2017
The First and Second World Wars introduced a whole new type of chaotic warfare. And chaos spawns bravery, oddities, and stupidity. That's how we got these odd stories.
'Mad Jack' Churchill
It's safe to say he is a rare breed of warrior.
Churchill served in the Second World War for the British, and the British offered a large amount of technologically advanced weapons for it's troops. But what did 'Mad Jack' choose? A long bow and arrow and a broad sword. He actually has a confirmed kill with it as well, but, that's not why he was nicknamed 'Mad Jack.' That name was given to him because he used to lead his troops into battle with…bagpipes. Oddly enough the bagpipes saved his life because the German Soldiers didn't want to fire on him because they thought he was mentally insane.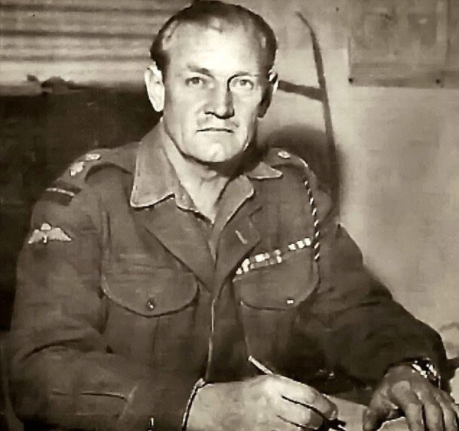 Photo found @Rgnr_Ldbrk91
It worked! So congrats to 'Mad Jack' for staying alive.
Lieutenant Lawrence Dominic 'Fats' McCarthy
McCarthy served for the Australian Imperial Force (AIF). His parents both died when he was at a young age, so he grew up in an orphanage and later in life lost three fingers on his left hand in a sawmill accident. Remember that. When the First World War broke out he tried to join the Australian Army, was denied because of his injuries, yet was later accepted after he won a number of shooting competitions.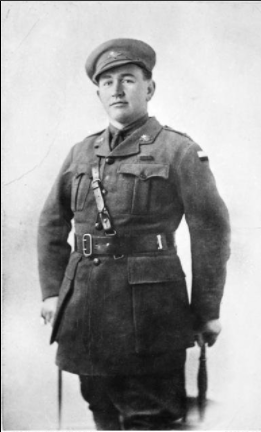 Photo Found @ShrineMelbourne
Now lets get to the interesting part, he was fighting on the most iconic front of the war; the western front. He was injured at Bullecourt and came back to be promoted to Lieutenant and given the Croix de Guerre and was awarded the Victoria Cross for one of the best pieces of individual fighting in the history of the AIF at Poziéres. This is what happened, his battalion was being heavily suppressed by a well positioned German Machine Gun nest.
So what do you do? Well, he sprints in No Mans Land with two others, one died and the other was wounded and put out of action. He gets there and clears out the nest. It gets even better, he clears out 500 yards of the German trench! The distance of 5 Football Fields! He killed 22 people and captured 50 German Soldiers all by himself, all with two fingers on his left hand. The German prisoners were so surprised by his actions, that they all literally patted him on the back and cheered for him.
The most feel good story of World War One. For the first months of the war, the troops of all the nations on the western front were kinda chill with each other. To the point where they yelled jokes from their trench to the opposite trenches. (Trenches were as close as 10-20 meters on some points of the frontline). On Christmas of 1914 the German Troops started to sing Christmas carols and the British and French sung along in their languages. On many points of the frontline, unofficial truces happened to clean dead bodies off of No Mans Land (very common) but this time the Troops stayed and chilled out on No Mans Land.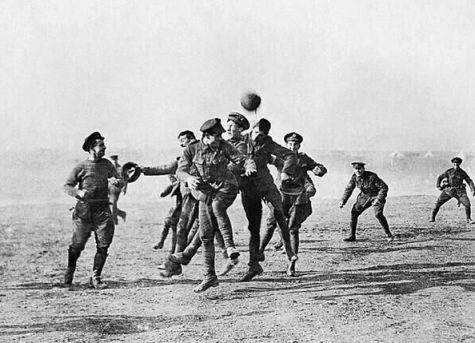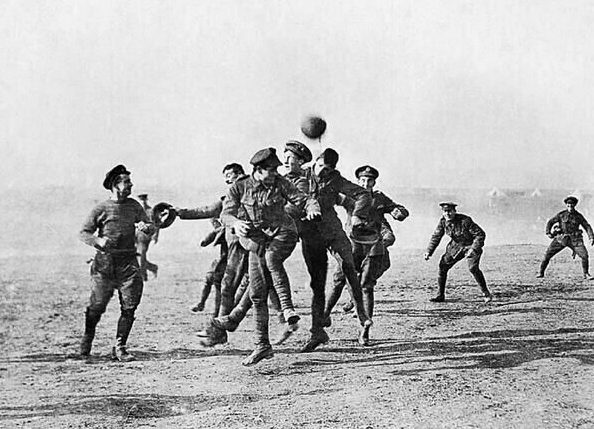 Soldiers were getting haircuts from there enemies, they gave there rations of cigars, rum, and sweets to each other. There was even a soccer game of the English vs the Germans (rumors say the Germans won of course). But after this British and French high command banned this, the Germans tried to repeat this on Easter but the British had to deny it.
Alvin York
This is kind of an odd story. A conscientious objector (someone who doesn't use weapons during the war based on religion) that killed 25 and captured 35 machine guns 132 P.O.W.'s. during the Meuse-Argonne offensive. His fellow soldiers were being mowed down by a machine gun nest, so he and 12 others were ordered to take it out. Nine died which made him the soldier in charge. He was charged by SIX German soldiers with bayonets. He took them out with HIS SIDEARM. The commanding German officer emptied out his clip trying to kill him, but no luck for him. The commanding German officer surrendered. He took the prisoners and machine guns back to camp.
His commanding officer went up to him and said "I heard you captured the whole German Army by yourself," he casually responded "No sir, just 132 men and 35 machine guns." Alvin received a host of Military Award like the Croix de Guerre, and the Medal of Honor.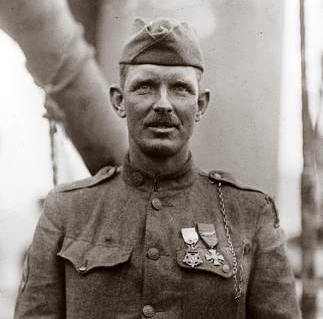 That is one deadly conscientious objector.
ZOMBIE STORY: Osowiec Fortress
On the Eastern front the main competitors were the German War Machine vs the Russian Juggernaut. The Germans were trying to take a certain fortress held by the Russians. They made 2 attempts yet were beaten back. So the Germans decided to go big. They had 14 battalions of infantry, one battalion of sappers, 24-30 heavy siege guns, 30 batteries of poison gases, which added up to 7000 men and a whole lotta big guns. The Russians only had 500 soldiers of 226 Earth division and 400 militia men and were instructed to do the impossible, hold the fortress for at least 48 hours to evacuate civilians.
On August 6th at 4 am, when the winds were just right, the released the poison gas. They waited a little bit for the poison to take effect, then triumphantly walked towards the Fortress. When they reached the first line of defense they were counter-attack by about 60 half-dead Russian solders with blood stained cloth over their mouths. They were literally coughing their lungs out. They looked like they were straight out of a horror movie. The Germans retreated with their tails between their legs as fast as possible away from their half dead enemies.
Just think of the mind set of the Russians, they were going to die anyway, so why not die with guns blazing.
Sergeant Milunka Savic "The Bomber Of Kolubara"
The most badass woman of all time. Sergeant Savic is the most decorated female combatant IN THE HISTORY OF WARFARE. She is a 7 year veteran, of 3 wars, on 2 continents…yup.
In 1912, her brother was drafted to the Serbian Army for the First Baltic War, so she pulled some Mulan/Freaky Friday trick and entered the army instead of him. She went in with her bayonet fixed, guns blazing, and chucking grenades of course. They won and before she had time to clean the blood of her bayonet a second Baltic War was being fought. She was part of the famous "Iron Regiment" that bore the brunt of the Bulgarian attacks. On her 10th (!) combat charge she lead her men into No Mans Land to attack the Bulgarians, but a grenade exploded near her and she was hit with shrapnel. When she was taken to the field hospital it was discovered she was a female.
When she got better, she stood at attention to her commanding officer to explain what she was doing on the front line as a woman. He offered her a "woman's job" in the nursing corps. She told him that she wouldn't accept any position that didn't allow her to fight the enemies of her people. He told her to think on it and come back tomorrow, she stood at full attention and said "I'll wait." He made her stand at attention for an hour until he gave up and let her stay in the infantry and even promoted her to Junior Sergeant.
Right after that war, came WWI. Promoted to Sergeant, she did her thing and went in bayonet fixed, guns blazing, chucking grenades. One time she jumped into an Austro-Hungarian bunker and captured 20 men by herself. From that day she was called "The Bomber of Kolubara". That action got her first Karadjordje Star with Swords, the highest Serbian award for bravery. She was injured in that battle and as soon as she got back, Serbia was being attacked by 3 nations. She fought like a demon, doing the same thing and capturing 23 Bulgarians, and that got her the second Karadjordje Star with Swords.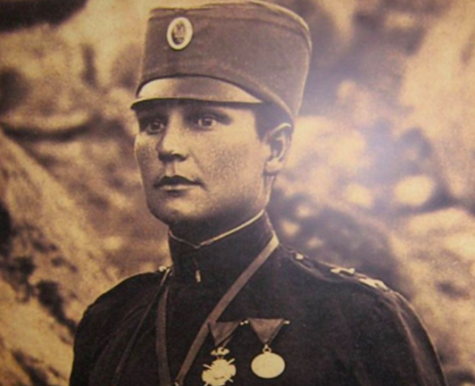 The Serbian Army withdrew to Greece and in the rest of the war she earned, the French Legion d'Honneur twice, Russian Cross of St. George, the British Medal of the Order of St. Michael, the Serbian Milos Obilic Medal, and was the only woman from World War I to receive the French Croix de Guerre (the highest award for bravery  they have).
At the end of the war the French offered her a house in Paris and a hefty military pension. To give you an idea about how big that is, at the end of the war France was on the verge of financial collapse. Wow.
She declined, got married, had a kid and adopted a couple orphans of the war. When the Germans came in WW2 to Serbia they invited here to a banquet, she declined, and was sent to a concentration camp for 10 months. She, of course, survived. She died in Belgrade on October 5, 1973, at the age of 84. She was buried in a famous cemetery there with full military honors.
These are only a couple of the crazy stories through the World Wars. There will be more to come.
See you with more stories next school year!