Golf Team Finishes Another Great Season
As golf season comes to an end, senior Marin Pena and freshman Anne Kumashiro reflect on the past season and look forward to the future.
The golf team went to regionals for the 3rd year in a row! They finished with a record of 3 wins, 2 losses, and 1 tie. They finished second in Arlington County Public Schools standings, behind Yorktown, and in front of Washington-Lee. Marin reflected on her last high school Regionals with a very positive outlook; "Our Regional tournament was really fun and although we didn't go to states, we still went to Regionals."
Marin Pena has been on the golf team since her freshman year, and been playing since she was 10 years old. "It's been 4 years." Marin said, "Freshman year I was one of four girls, but I was the only one who would play (in the matches) and then in sophomore and junior year I was the only girl. But now, I have my good friend Anne." Anne agreed that it was "really, really nice to have another girl and not be starting off a new season at a new school kind of alone. It's fun being with the guys too, but sometimes they can be a bit unruly." Clearly having each other made this season that much better.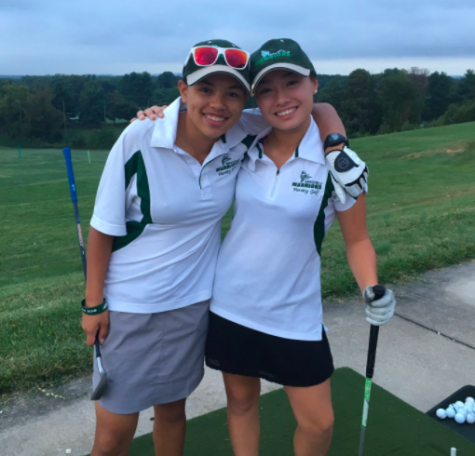 Anne Kumashiro has played golf on and off since first grade. Although going into high school golf wasn't on her radar, "I really didn't think that I was going to play (golf) in high school, but my dad told me (about the golf team) and convinced me to give it a shot and I loved it."
This is the only season, that Marin and Anne will play together at Wakefield, but they have definitely made it an memorable one. Both girls qualified for all girls Regionals and both had great rounds at the team Regionals. Some advice Marin had for Anne next year was, "Don't get frustrated, be positive. If you're struggling, push through and keep going. Listen to the coaches, even when the boys aren't." Marin was the first girl to go to all-girls Regionals for all four years of high school; Anne hopes to follow in her footsteps!
Marin and Anne both wants more girls to join the golf team! Marin said, "We want people to join and get interested in the sport because there are a lot of scholarship opportunities, and even more than that, it becomes a big family." "It doesn't matter what you shoot, as long as you tried your best, that's what matters." said Anne.
These two girls aren't the only members of the golf team however. There were seven guys on the team this season; Will McCarter, Guillermo Garcia, Bobby Holman, Eli Sampson, Alex Franklin, Peter Jacobsen, and Joey Mazel.
"The boys have become my family these past 4 years. Especially my sophomore year, the boys were unbelievable, I was like the 3rd coach. The coaches would tell them to calm down and they wouldn't until I yelled at them to be quiet and then they would listen" said Marin. Anne definitely included the boys in her newly found golf family too; "We kind of joke around a bit…but it's all just to get better."
Although the golf team is done for the season, the ladies plan on showing off at the all-girls Regional tournament! The date hasn't been set yet, but be sure to stay tuned to the Wakefield Athletics Twitter for updates! Good luck Anne and Marin!
About the Contributor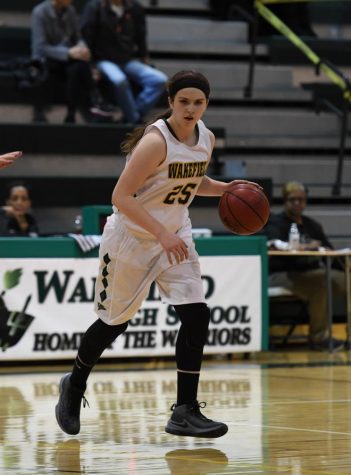 Hannah Foley '19, Staff Writer
Hi, my name is Hannah. I am a senior and this is my second year as a staff writer on The Chieftain. I'm also the captain of the basketball team and a student...