Indoor Track Making Big Strides
The Boys and Girls track teams are winning…and nobody knows. The Boys are 2-0 and the Girls are 1-1. If you can't make it out to the meets, at least congratulate these runners in the hallways. (Stay up to date with their winning streak @runwakefield.
Junior Jackson Ringger said, "The team has a lot of strong returning players and plenty of good new comers as well." These athletes are very hopeful and excited for the rest of the season. This team has seven freshman who compete in events. The team also has a strong returning cast with some really strong  senior runners in Avery Moore, Amanuel Haileselassie and Samuel Kelly.
Some people may not be aware of how indoor track works. The runners compete in a series of events that are tallied together to get a total score for the school. The runners compete in a variety of individual events including high jump, shot put, the 300 meter, the 500 meter and the 1600 meter. There are even some events that include multiple runners including the four person 200, 400 and 800.
Beyond the overall winning record, the Boys team has had some impressive accomplishments, including placing 1st overall twice, and eight first place finishes in the 4x 200, 4x 400, 300, 500 55H, 1000m, 1600m and the 3200 in the last meet. The Girls track team is putting the work in with three first place events in 4×200, 55m and 100m.
The team is lead by Xavier Taylor, Amanuel Haileselassie, CJ Robinson and Jackson Ringger. Freshman Jack Kumashiro said, "I think the track team is very good this year and full of potential." This team has some pretty special athletes, that can definitely compete at states. Freshman Chelsea Figaro and Junior Briana Alexander are leading a very underrated Girls team. They are working hard and practicing all the time. Freshman Chelsea Figaro talked about the commitment; "Track is a lot of hard work and dedication if you want to be able to win all your events." All the runners have plenty of potential and are ready to keep winning, the team is training hard including practices every week day.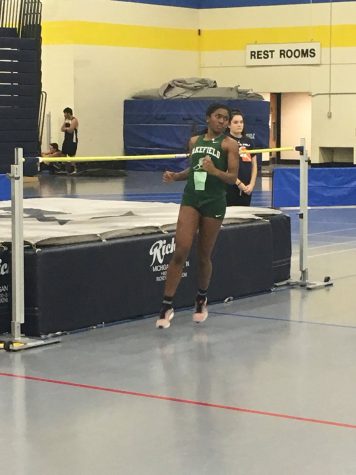 Come to both track teams next meet Friday January 12th at 5:30 at Thomas Jefferson Middle School. Support our runners at the district competition Tuesday January 30th at 5:30 at Episcopal Track and Field Field House.
GIVE OUR RUNNERS SOME LOVE WHEN YOU SEE THEM IN THE HALLWAYS!!!!