Movies, Music, and More: What to Expect in 2018
Although 2017 was an amazing year for entertainment, we are beyond excited for what 2018 has to bring. Here are some of the movies, books, music and shows to look forward to in 2018.
Movies: 
Black Panther: We are finally getting the black hero we have all been waiting for. Following his father's death, T'Challa returns to Wakanda to take his place as king. All is well until T'Challa gets tested by a powerful enemy and becomes Black Panther. He must now do anything and everything he can to save Wakanda. In wake of all the vilification of African Americans we finally get to see a story where they are humanized and seen as more than just a race. Watch the trailer here and see this powerful movie on February 16.
A Wrinkle In Time: This classic book by Madeline L'Engle is being brought to the screen! This movie is expected to be amazing, with a powerful cast including Oprah Winfrey, Mindy Kaling, Reese Witherspoon, and other amazing actors. The movie follows Meg and her younger brother Charles as they go on a journey to find their father. Along the way they meet many other characters that will assist them along their journey. Check out the star studded trailer here and enjoy the whole movie on March 9.
Love, Simon: Based on the book, Simon and the Homo Sapiens Agenda. This movie will follow the story of 17 year-old, Simon Spier and his journey in coming to terms with his sexuality. Nick Robinson will be playing Simon, along with Katherine Langford, Jennifer Garner, and more. This movie is set to be released on March 17. Watch lovable Simon in the trailer here.
Ocean's 8: This movie follows a gang consisting of 8 women that attempt to rob the Met Ball, more specifically the necklace of Daphne Kluger, worth millions of dollars. Sandra Bullock, Mindy Kaling, Anne Hathaway, Rihanna, and many more are expected to bring the action in this movie.The trailer will have to keep us satisfied until June 8, watch the trailer here.
The Incredibles 2: The 14 year wait is finally over! This movie will continue to follow the Parr family as they struggle to conceal their secret identities. Although characters have managed to not age over the 14 years, the audience definitely has and we are expecting many adults and teens in the theaters. This long awaited movie will hopefully exceed all of our expectations. Watch the adorable trailer here, and watch it in theaters June 15!
Mamma Mia! Here We Go Again: This sequel continues to follow Sophie and her journey to discover more about her mother's past. Now she is hoping to get advice on how to deal with her pregnancy. Watch Amanda Seyfried, Meryl Streep, and Dominic Cooper tell the second part of Sophie's story. We'll have to wait until July 20 for the movie, but you can watch the trailer here in the mean time.
Shows:
Life Sentence: When Stella, a terminal cancer patient, discovers she has been cured she now has to change her life to fit her new lifestyle. She soon discovers the hardest part of life is living. Catch Lucy Hale, Elliot Knight, and Brooke Lyons on the CW. Watch the trailer here and tune in sometime in January.
The Alienist: This show will be bringing the words of Caleb Carr to life. The set takes place back in 1896 in New York City. A journalist and an investigative team attempt to solve a string of murders committed in the area. Dakota Fanning, Luke Evans, and Robert Wisdom are some of the names among the cast. Watch the trailer for the most anticipated show here. Expect the first episode on January 22 at 9pm, on TBS and TNT.
2018 Winter Olympics: Being held in none other than South Korea's, Pyeongchang. Watch these passionate athletes fight to win gold starting on February 9. Many athletes will make history, including figure skater Adam Rippon, the first openly gay man to qualify for the olympics.
Our Cartoon President: Watch Stephan Colbert produce the animated, all access look into the current American presidency. Watch the trailer here and check out the show on February 22!
Heathers: This show has managed to get very high expectations and some controversy. This show will be a based off the classic movie from 1988. An outcast, Veronica, conjures up a plan to destroy the most popular people in school, all named Heather ironically. This year the clique will be made up of a person of color, someone is genderqueer, and lastly someone who is plus size. On social media many have stated that this is yet another way producers have made minorities the villains. Watch another way TV producers manage to completely misrepresent high school in the trailer here and watch the show on March 7.
Books:
The Hazel Wood by Melissa Albert: When 17 year-old Alice's grandmother, author of dark fairy tales, dies alone on her estate, the Hazel Wood, her luck goes from bad to worse when her mother is taken by someone claiming to be from one of the mythical places her grandmother has written about. She must now dive into the world of her grandmother's writing to help save her mother. Be sure to read the enchanting novel on January 30.
The Traitor's Game by Jennifer A. Nielsen: Kestra Dallisor is going on her third year of being exiled. Meanwhile her father is the right-hand man to the horrible king of their kingdom. A group of rebels take advantage of this situation and force Kestra is go on a dangerous quest to retrieve the Olden Blade to destroy the king, but Kestra wont let this go down without a fight. Read this fast paced novel on February 27.
Leah on the Offbeat by Becky Albertalli: From the same mind that brought you Simon and the Homo Sapiens agenda, now brings a spinoff novel and puts Leah, Simon's best friend, into the spotlight. Leah Burke, everyday high school, student now struggles to accept her bisexuality. Read all about her self discovery and acceptance on April 24.
On the Come Up by Angie Thomas: From the same author that brought you The Hate u Give, comes a new story about an aspiring rapper and the dangers that come with fame and popularity. All I can say is, be careful what you wish for. Don't forget to pick this book up on May 1st.
War Storm by Victoria Aveyard: This book will be the conclusion of the Red Queen series. Mare Barrow is continuing the fight for fair power in her kingdom. She must now do everything in her power and risk everything to save her beloved kingdom, and in the midst of everything a war breaks out. Check this gripping book out on May 15th.
Music:
Camilla Cabello: We were expecting big things from Cabello, especially after her catchy hits, Havana and Crying in the Club. This former Fifth Harmony member just released her album January 12th. Check out her album and other information on this star here.
Liam Payne: This will mark Payne's first solo album and fans have high expectations. Considering he has worked with a few big names including Charlie Puth, Ed Sheeran and Zedd. Fans are beyond excited to see what this artist has coming. Payne has described the album's music as "some dark pop on there, some super urban tracks and a lot of trap music" in a Planet Radio interview. Except his album to be released sometime this month!
Nicki Minaj: Minaj is working at her own pace and will release the album whenever she feels it is ready, as explanied in a Fader interview, "tomorrow, I might walk into the studio and decide that I don't like anything I've done in the last six months." Although, she has softly nudged that she will be collaborating with Young Thug. Minaj's album is another one we have high expectations for, considering she has had 14 singles in the top 10.
Cardi B: While Cardi B has managed to keep her fans in the dark about many details, we're still keeping a look out for her new album. There is the chance of some love songs, as mentioned in a Complex interview, "I could really make a song of hurt, because I've been hurt by a lot of men."  Considering Cardi has managed to consistently stay on the charts for an impressive amount of time, we expect another outstanding album from our girl Cardi.
2018 promises outstanding movies and shows, breath taking albums and captivating novels. Hopefully 2018 will be one to remember!
About the Contributor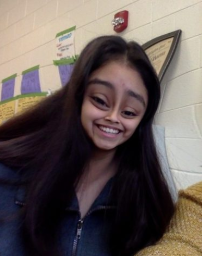 Alejandra Galdo Hernandez '20, Co Editor-in-Chief
Hi I'm Alejandra! I'm a senior and this is my third year writing for The Chieftain. Some of my interests include reading, plants, and my kitties. I'm very...