Champions League Predictions Round of 16: Who Will Move On???
Its that time of year again when the Champions League Round of 16 comes around. This year is especially exciting considering the quality of the teams in the tournament.
ROUND OF 16: FIRST LEG
Juventus v Tottenham Hotspur
This year is just full of exciting matchups as Tottenham face Juventus at home. Harry Kane has been great this year beating the likes of Ronaldo and Messi for most goals in the calendar year and many offers from huge clubs. Juventus are also looking very good this year with the likes of Dybala, Higuain and Cuadrado leading the attack. I don't see any of these teams making the finals this year considering this is one of the most competitive lineups I've seen. I believe Juventus is going to win the tie due to the home advantage and the leadership of Dybala and Co. Prediction 2-1
Basel v Manchester City
This match might be one of the most laughable in this year's competition. Manchester City are absolutely dangerous this year leading the premier league. Basel have some talent but not enough to stop the likes of Jesus, Aguero, Raheem Sterling, and Sane. Manchester City have a record run in the Premier League and I don't see them stopping there. They are title contenders in my opinion as they have been phenomenal this season. Prediction 0-3.
Porto v Liverpool
Another good fixture with probably the underdogs of this competition. Liverpool have just lost a key playmaker (Coutinho) to Barcelona for a staggering $160 Million. It'll be fun to see how Liverpool hold up without their star, but I think Liverpool will still walk away with the win due to their impressive run in the Champions league so far this season.  Prediction 1-3
Real Madrid v Paris
Probably the most exciting game of this year; we have 2 of the favorites coming together in the early rounds. Real are the current holders and PSG have shown what talent they have with a deadly front 3 consisting of the youngster Mbappe, Cavani, and the record signing Neymar. Real Madrid have not been consistent in La Liga this year and have struggled falling 16 points to Barcelona. I think the game is even matched but I think PSG will pull away with this tie due to the menacing players they have up front. Prediction 0-2. 
Chelsea v Barcelona
This fixture is one that will definitely be interesting. Both teams haven't really been on good form yet both teams have players that can spice up the game. I think Conte would perform a lot better at home and he understands playing at the Camp Nou will be a lot harder. Chelsea will definitely go all out. Prediction 2-1.
Bayern München v Beşiktaş
This could definitely a blowout. Not only because of my bias towards Bayern, but come on now. No offence to Beşiktaş. But Bayern will be at the fortress (Allianz Arena) and have had amazing form under Jupp Heynckes. Beşiktaş have one hope though, Bayern under Heynckes don't pressure as much as under Guardiola. Maybe there will be mercy for them. Prediction 3-1
Sevilla v Manchester United
These two teams were the last 2 winners of the Europa League and are now contending for the bigger prize of course. These two teams are evenly matched and I expect a great match but a dead even game 1-1.
Shakhtar Donetsk v Roma
MInnows Shakhtar are at home against Roma and I think they have good key players that can surprise the Giallorossi. I predict 2-1.
Remember tune in to Champions League on Tuesdays and Wednesdays February 13th and 14th on ESPN or Fox. 
About the Contributor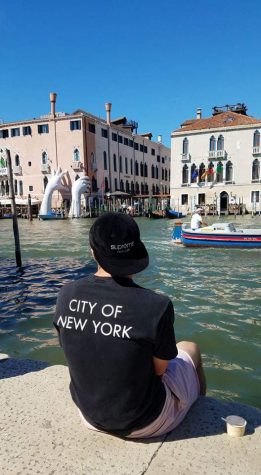 Ian Moran '19, Staff Writer
Hi my name is Ian Moran and this is my second year at The Chieftain. I'm from Munich, Germany but moved here when I was 3. I like writing sports articles...