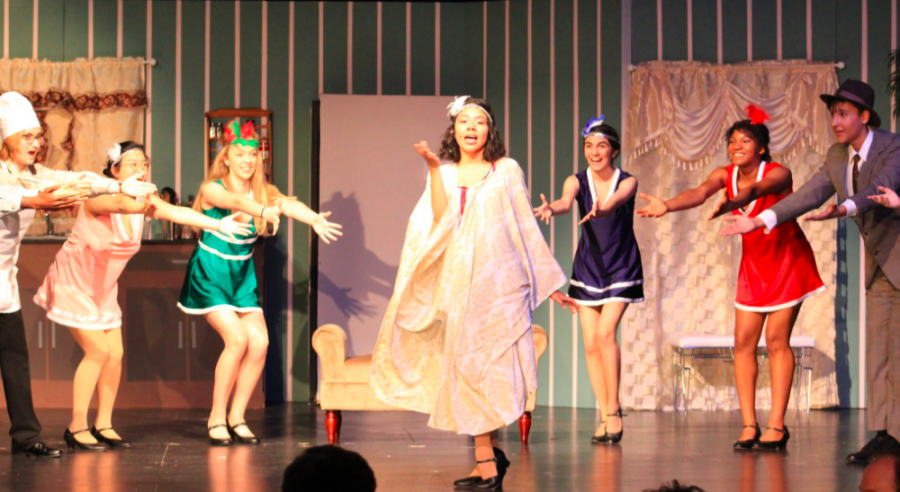 The Drowsy Chaperone: Two Cappies Reviews Highlight Best Moments in Must See Musical
May 12, 2018
Below we have two reviews from members of The Cappies, a Critics and Awards Program for high school students. Wakefield was honored to have The Cappies members review their Saturday night performance. Tonight at 7pm is the FINAL showing of this uplifting comedic musical. You must see it tonight, or hear about all the funny moments you missed next week in class.
The Drowsy Chaperone: An Infectiously Joyful Show
Wedding bells will ring, wedding bells will chime – if the clueless groom, flaky bride, and her drowsy chaperone can get down the aisle! Prepare to tap your toes and stumble along with Wakefield High School's infectiously joyful "The Drowsy Chaperone"!
"The Drowsy Chaperone", with book by Bob Martin and Don McKellar and music and lyrics by Lisa Lambert and Greg Morrison, debuted on Broadway in 2006, where it collected five Tony Awards, including Best Score and Best Book.
The musical comedy centers around the asocial Man in Chair, who plays himself the record of his favorite show, the "The Drowsy Chaperone" – a fictional jazz-age musical comedy, full of "mix-ups, mayhem, and a gay wedding" – which comes to life in his apartment as he listens.
As the Man in Chair, Ethan Chow is wonderful. As he lip-syncs and even dances along to his beloved record, Chow humorously delivers each of the Man's riffs and quips about the show. Chow blends his comedic observations with the Man's emotional backstory, proving winningly sentimental as he analyzes whether it's better to "live or leave". Chow's thoughtful performance makes his constant onstage presence a very welcome one.
In the glittering land of "The Drowsy Chaperone", the actors portray their satirical caricatures magnificently. Spotlight-loving Janet Van De Graaff, the bride who intends to give up her life onstage for marriage, is played by Samantha Rios. In the upbeat number "Show Off", Rios cartwheels, poses, and belts, all while modestly insisting she doesn't want to be the center of attention anymore. Rios maintains her bold voice and sweet chemistry with fiance Robert Martin (Garrett Rinker) throughout the show, especially in their charming duet, "Accident Waiting to Happen". As Robert, Rinker is charismatic as his blissfully naive bridegroom, shining in his fantastic, flashy tap-dance number, "Cold Feets".
Among the wedding guests, there's swaggering aviatrix Trix (Retta Laumann), whose powerful voice soars with her plane; the deadpan British butler, Underling (Jack Cackley), who never falters in his impassive expression, even when receiving a faceful of spit-takes; and Xavier Molina's Aldolpho, the self-declared "King of Romance". Molina, whose absurd accent and hilarious scenery-chewing brings the house down, shines with a stellar voice in "I Am Aldolpho", a self-centered song of seduction.
And of course, there's the eponymous character, the Drowsy Chaperone, played brilliantly by Belle Perkins. Unabashed by Prohibition, Perkin's witty delivery is the only thing dry about her character – "Where's the bar?" she asks immediately upon arrival – and her strong, rousing voice is beautiful in "As We Stumble Along".
Never has such an ensemble been so energetic and delightful – adorned in divine 1920's costumes, the company executes the exuberant choreography well, especially in their terrific number "Toledo Surprise". The company is comically gifted as well, landing every joke; they make great use of physical comedy as well, repeating their motions over and over when the record skips.
The Man in Chair's spacious apartment set (Conrad Burns, et al) is greatly versatile for the musical's movable set pieces, as well as providing an efficient and hysterical entrance for the wedding guests via a refrigerator door. The old-fashioned props (Anna Disisto-Ercolani, et al) are notable as well, particularly Trix's wearable airplane. Living up to their name, the Not-So-Drowsy Pit Orchestra performs each tune with jazzy zeal.
There are no accidents waiting to happen onstage at Wakefield High School – the enamoring, enthusiastic cast make "The Drowsy Chaperone" a marvelous musical comedy deserving of being shown off!
The Drowsy Chaperone: Wonderfully Entertaining
In modern society, there is often a nostalgic love for the past. People look wistfully to a lost golden age, losing themselves in music films, and shows lost to the sands of time. Such is the story of the musical The Drowsy Chaperone, put on by Wakefield High School. The cast and crew worked together to pull off a show that was wonderfully entertaining and reminiscent of the roaring twenties.
The Drowsy Chaperone debuted on Broadway in May 2006, earning 5 Tony Awards during its run. The book is by Bob Martin and Don McKellar and presents the comical story of a middle aged, disillusioned man sitting in his living room and wishing for happier times. When he puts on his favorite record, the music from a low budget 1920's show called The Drowsy Chaperone, the story comes to life in front of him as he narrates along. The audience watches as the man's own relationship with the show changes, and it becomes clear that his own story intertwines with the characters' in a surprising way.
For a comedy based in the 1920's, a lot of caricatures and overacting was necessary to pull off the plot, and this cast handled it with ease. In the role of show-girl turned housewife, Samantha Rios showed off stellar vocals and an amazingly high level of energy. Her counterpart and love interest onstage, Robert, was played by Garrett Rinker, whose constant commitment to his character was impressive. Xavier Molina played Aldolpho, the "stereotyped Latin lover," whose spot-on accent, hilarious comedic timing, and stellar delivery of the song "I am Aldolpho," had the audience in stitches. Rinker took a small, featured role, and turned his moments onstage into the best of the show.
Leading the cast in the role of Man In Chair, Ethan Chow brought amazing realism, comedy, and age to a character that often comes off quite plain, and created a beautiful emotional build as the story went on, bringing the audience to realize that his own backstory was a bit more heartbreaking than he first wanted to admit. In all, the cast worked wonderfully together to deliver high energy numbers and cohesive group moments that really added to the Broadway stereotype of a show.
Many technical elements were used to pull off the "Show-within-a-show" style. The lights, designed by Amanda Bloom, were dynamic and moved quickly to shift back and forth between the Man In Chair and the show the man's watching. The set, designed by the Wakefield Set Crew, was full of thoughtful details and accents, everything set perfectly within the time period. Set changes were simple, with few pieces moving on and off to represent new locations, which was remarkably effective and made good use of the space.
In all, Wakefield's The Drowsy Chaperone, was a night of rousing entertainment from the Roaring Twenties, with comedy and energy that truly represents what a great night of theatre can be.