Mystics Head to WNBA Finals For First Time Ever in Program History
September 7, 2018
Last Tuesday, the #3 Washington Mystics upset the #2 Atlanta Dream in a historic victory to go to their first WNBA Finals. WNBA playoffs are best of 5, and the Mystics were tied 2 to 2 vs. the Dream as they headded into game 5 at Georgia Tech in Atlanta.  These players held their own in front of rowdy Dream fans. The Mystics fought hard, played smart, and came out with a win achieving their dream of making it to the WNBA finals.
Every person on the team made huge contributions to the win. Rookie guard Ariel Atkins played the game of her life, scoring 20 points and 7 rebounds! 2015 MVP Elena Delle Donne told ESPN about Atkins amazing performance; "that was one of the most clutch performances I've ever seen, especially by a rookie. She looked like a six-year veteran." Delle Donne was injured during game 2, causing her to sit out game 3, but after rallying for games 4 and 5, she put up 14 points total in Tuesday night's game.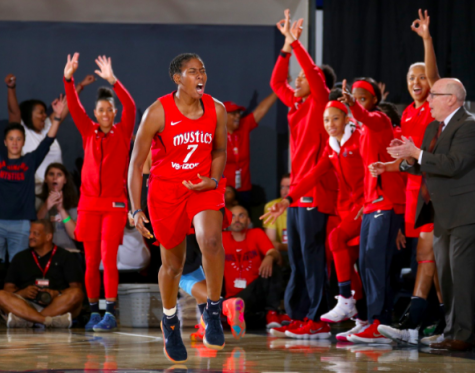 Another incredibly strong performance was from forward Tianna Hawkins who came off the bench and put up 17 points, including three 3-pointers, matching her career high points. She told ESPN after the game, "It's all or nothing. I just tried to come in with a ton of confidence." Hawkins has been relatively quiet during these playoffs, so picked the perfect time to come alive.
Former University of Maryland star, Kristi Toliver, had the hot hand as well. She had 19 points while playing 39 of the 40 minutes, helping get herself to her second WNBA Finals. When asked after the game how she felt making history for DC, Toliver said, "It's why I came to Washington…to make history. It's special to do it with this group. It's an exciting time to be a DC fan, and I'm glad I'm on the winning side of it."
Both Toliver and Delle Donne asked for a trade to DC from their previous teams to return closer to home. Toliver grew up in Harrisburg and Delle Donne is from Delaware. They have been key players in this playoff push.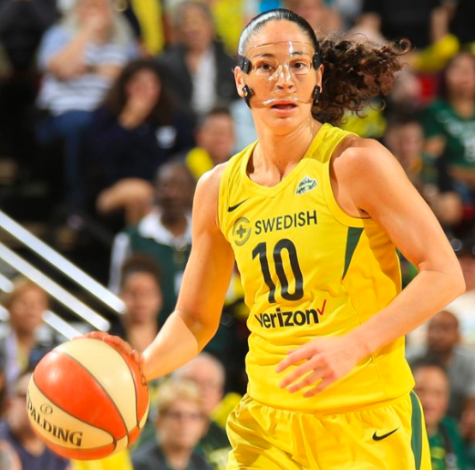 On the other side of the country, fans watched #1 Seattle Storm and #5 Phoenix Mercury face off in a winner-takes-all, game 5. The Storm is stacked, with this year's MVP Breanna Stewart, future hall of famer Sue Bird, and stand out point guard Jewell Loyd.
Phoenix was down 0-2 in the series and mounted a huge comeback to tie the series thanks to monstrous performances from Diana Taurasi, DeWanna Bonner, and Brittney Griner. Game 5 was a battle. However, with a little under 4 minutes left, the Storm could see their amazing season slip away. They were down 4 and while Stewart and Loyd were playing well, Bird could not get her shot to drop. She had a broken nose in the previous game and was wearing a mask, surly uncomfortable. With 5:45 left in the game, Bird hit a three-pointer, and after that, didn't miss another shot. She hit 14 of her 22 points in the final 5 minutes of the game to lift the Storm to it's 3rd WNBA Finals.
Tonight, the Mystics will face the Storm, in game 1 of the WNBA Finals. The game is at 9pm and you can watch it here. They will be at Eagle Bank Arena (George Mason University) on Wednesday, September 12 for game 3. Tickets are only $20! You can buy them here.
Go support our Washington Mystics as they make a push to bring home the championship!
CORRECTION: In a previous version of this article, we erroneously reported that the Mystics were #2 seed and the Atlanta Dream were #3 seed. Apologies.