How Should We Remember Malcolm McCormick?
Mac Miller was a very loved hip hop artist. He passed away from a drug overdose on September 7th. Many fans reacted by blaming his ex-girlfriend, his label, his friends, the drugs. Blaming won't bring him back. Blaming won't help others that need it. See what we forget sometimes is no matter what you do, how much money you have, no matter how perfect someone's life seems, we are all human.  We all struggle. We all need help sometimes.
Miller had been struggling with years of addiction and depression. Unlike many artists, he was very open about both areas. He talked about it in his songs, and helped his fans feel less alone.
"
Mac was my only reason I really got into rap, he is my inspiration to keep fighting even through hard times."
— Junior Cullen Blalock
Mac Miller was born on January 19, 1992. He started his music career at the age of 14, but got serious at the age of 15. He was a self-taught musician. Miller signed his first record deal with Rostrum records in 2010. Miller was quick to gain success he went on his first tour in late 2010. He achieved so much at such a young age. Mac Miller was known for helping other artists that were already on the come up.
Here's what these artists had to say about his passing:
Chance the Rapper tweeted "I don't know what to say Mac Miller took me on my second tour ever. But beyond helping me launch my career he was one of the sweetest guys I ever knew. Great man. I loved him for real. I'm completely broken. God bless him."
Post Malone tweeted "God…You were such an incredible person. You changed so many lives. Had so much love in your heart. You inspired me throughout high school, and I wouldn't be where I was today without you. Never a more kind and sincere and beautiful person. I…love you mac"
Wakefield students were also affected by this tragic passing:
Junior Cason Poythress said, "He was the first rapper I listened to and introduced me to that genre of music." Mac Miller was that introduction for many Wakefield students. Sophomore Ella Mearns said "he was an amazing singer, I love listening to his music, it's so sad that's he's gone." His music helped so many of our students. Junior Cullen Blalock said, "Mac was my only reason I really got into rap, he is my inspiration to keep fighting even through hard times."
But the sad truth underneath all that fame and fortune, he was in pain. Everyone who listened could hear it in his music, but noone knew what to do to help. If you or anyone you know needs help, please reach out before you wish you would have. That is how you can remember him.
The substance abuse hotline is  1-800-662-HELP.
If you just need to talk to someone, you can also text 741741 and a Crisis Counselor will text back. They can move you from a hot moment to a cool moment.
About the Contributor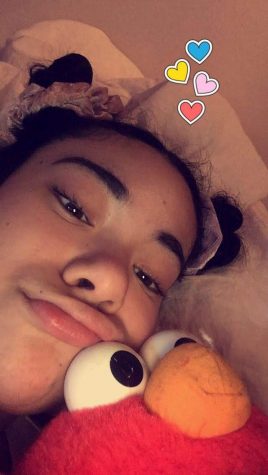 Kimberly Rendon '20, Opinions Editor
Hi, I'm Kimberly this is my third year on The Chieftain! I enjoy writing poetry and listening to music. I love eating junk food and going on random car...