What You Don't Know about Marching Band
Marching band has had some major victories this season. With a new director at the helm, they learned new routines and have to perform at every home Varsity Football game half time show. They have been putting in a lot of hours on top of their school work, at least two hours every day. It's time they get some recognition, Wakefield.
From color guard to drums to the horns, here's what you might not know about marching band.
Junior Ella Gokcigdem said you might not know "how hard it is to get a drill on the field. Multitasking, trying not to fall." There are many things to think about! Hold your instrument steady, stay in formation, and of course, play perfectly. Junior Callen Brooks said one of his struggles is "having the sun beating in your face." Believe it or not, marching band counts as a PE credit at all other schools except for Wakefield.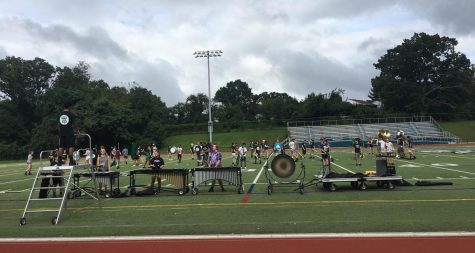 The new marching band director, Mr. Jessup said, " it's not just 'band outside'. It's a strenuous outdoor activity." Being in the band takes a lot of hard work, practice, and time. Although it can be a very difficult sport, it's a whole lot of fun. Junior Sasha Kitliarov said, "It's complex, but fun once you get the hang of it."
One of the directors, Jack Kilby said, "when I first started working here, I thought it was cool how being in band isn't dorky. Everyone here is genuinely invested. It's great to see this much young talent." The band is no joke! They even have competitions against other marching bands. They compete next Saturday, September 29th in Herndon.
Marching band deserves some support. The band is always here, cheering on the football team at every game. Show the band some love when you're in the stands.
About the Contributor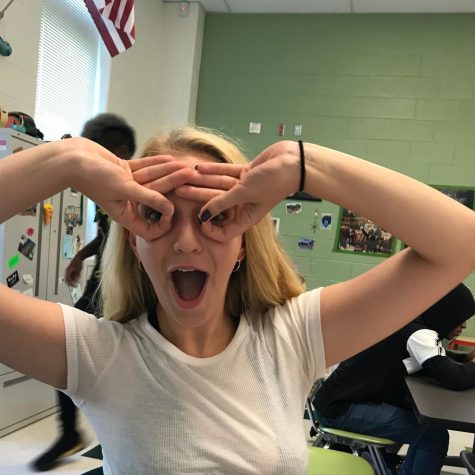 Elena Arrowsmith '19, Editor In Chief
Hi my name's Elena! I'm a senior here at Wakefield and I've been on The Chieftain since my freshmen year. I work at Dogma Bakery where I get to hang out...