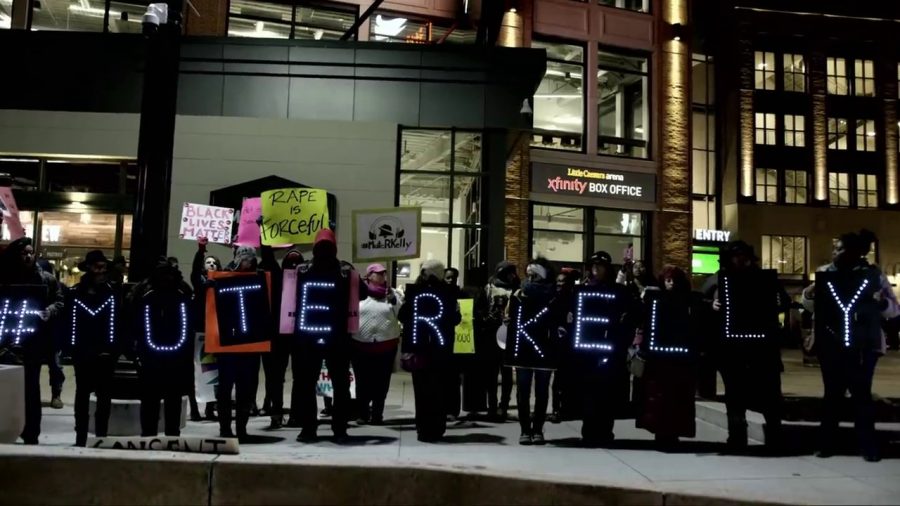 Surviving R. Kelly: the Man, the Myth, the Monster
January 23, 2019
On January 3, 2019, Lifetime premiered the six-part documentary, Surviving R. Kelly, detailing the abuse and allegations around the R&B singer. The documentary stems from decades of sexual abuse accusations. It features several women's testimonies and even Tarana Burke, founder of the #MeToo movement. It's quite clear that the cries of these women have been background noises in the soundtrack of R. Kelly's fame for far too long.
"
No one cared because we were black girls."
— Mikki Kendall
The first two episodes of the docuseries dove into R.Kelly's childhood; his rise to stardom, his relationship with Aaliyah Haughton, whom he met when the late star was just 12 years old, and even how he was sexually abused himself.
In 1994, Kelly married Aaliyah Haughton. At the time he was 27 and she was 15. Despite her age, she was falsely listed as 18 on the wedding certificate. Later that year, the marriage was annulled by her parents.
The third and fourth episodes detailed the ill-famed video showing Kelly raping and urinating in a 14-year-old girls mouth and the child pornography case that ensued and ended with a startling acquittal. If marrying a 15-year-old upcoming star wasn't disturbing enough, in 2002, Kelly was indicted on 21 counts of child pornography. Subsequently and surprisingly, Ignition (Remix), one of R. Kelly's most infamous songs, topped the charts. People seemed to completely disregard his actions for his music. There was a silent wave of separating the art from the artist.
Finally, the last two episodes spotlight reports from the last couple years of Kelly controlling women and girls under a one-man sex cult. In 2017, an article by BuzzFeed News reported allegations that Kelly had been controlling several young women by taking away their phones, limiting contact and much more.
A major theme throughout the documentary was the insistence that everyone in the music industry who enabled R. Kelly to share the blame for his actions. "The reason why he could do it is because he had people helping him" said one survivor. It's a stark reminder that the entertainment business is built on a system of covering up the wrongdoings of it's biggest moneymakers.
The testimonies brought forward are gut-wrenching, to say the least. Tears are held back as each of them speaks out on the abuse they endured. Each account of abuse is disturbingly similar to the next. We hear from the friends and family of survivors and even Kelly's own brother and producers, who seem to wrestle with the fact that they enabled and protected such a man.
Journalists, psychologists and even individuals in the industry came forward to explain Kelly's ability to juggle between his public and private personas and how he escaped scrutiny from over 25 years of evidence. Even after his marriage to Aaliyah and the alleged sex tape involving a 14-year-old girl, many stayed hesitant to take action.
"No one cared because we were black girls," said Mikki Kendall in the very first episode of the docuseries.
Following the documentary, RCA Records and Sony Music have dropped R. Kelly from their record label. The #MeToo and #MuteRKelly movements have respectively garnered well-deserved support and justice. Artists including Lady Gaga, John Legend and Chance the Rapper have all condemned Kelly. Spotify and Pandora have removed his music from their playlists.
Kelly has repeatedly denied the allegations saying  "[they are] attempt[s] to distort [his] character and to destroy [his] legacy." But it's quite evident that there is truth behind these allegations. These women and girls have lived with the pain and trauma for far too long, many since they were teenagers.
It's about time we listen and do something about it.
R. Kelly is not the first powerful person in entertainment to be accused of sexual harassment and assault and he is most definitely not going to be the last. On October 5, 2017, the New York Times reported on allegations from several women that Harvey Weinstein sexually harassed them. Shortly after, the hashtag #MeToo movement attempted to bring to light how prevalent sexual harassment is in American culture, even in Hollywood where everyone is being watched.
Just because an individual is famous, it does not mean they shouldn't be held accountable for their actions.
It is time this epidemic comes to an end.
If you see something, say something.