#5 Liv's On!
February 26, 2016
Olivia Ceccato-Bayne, the one and only senior on the the Girls Varsity team, played her final season this year. After being on the team all four years of her high school career, she's played on the Warrior court for the last time. What is she going to do after high school basketball? #ballislife
Liv is interested in a few colleges already, but may not be interested in playing college ball.  She's already been accepted into George Mason and Mount St. Mary's, but she has her heart set on the Florida college, Eckard. "I've really liked this school since freshman year. I'm still not positive on what I want to major in, so I'm going in undecided. I've been thinking about nursing, but I'm also really interested in marine biology or oceanography. I want to minor in Language with hopes of traveling or living in another country." said Ceccato-Bayne. Right now, she has 2 languages under her belt with three years of Spanish and two of American Sign Language. She is thinking about taking Italian in college.
As with a lot of seniors, Ceccato-Bayne is deciding between colleges. The decision to stay with the familiar, or explore the unknown can be difficult. "I've been visiting Mount St. Mary's since I was a kid. I love that the school is smaller." She's has been offered an Academic Scholarship at that school. "George Mason has a good nursing program and is closer to home. Although I don't think that I'd do as well in such a big school."
"
Don't take this time for granted, it goes so fast. "
— Senior Olivia Ceccato-Bayne
Leaving home can be tough, Ceccato-Bayne knows it will be, but is also ready! "I'll miss the comfort that I feel at Wakefield. I'm excited to be leaving high school to enter a new part of my life, but I'm super nervous because it's a big change. I'm not very use to big changes, but I've heard great things about college. I know once I get there, I'll love it. So, I feel exuberant that I have the opportunity for this experience."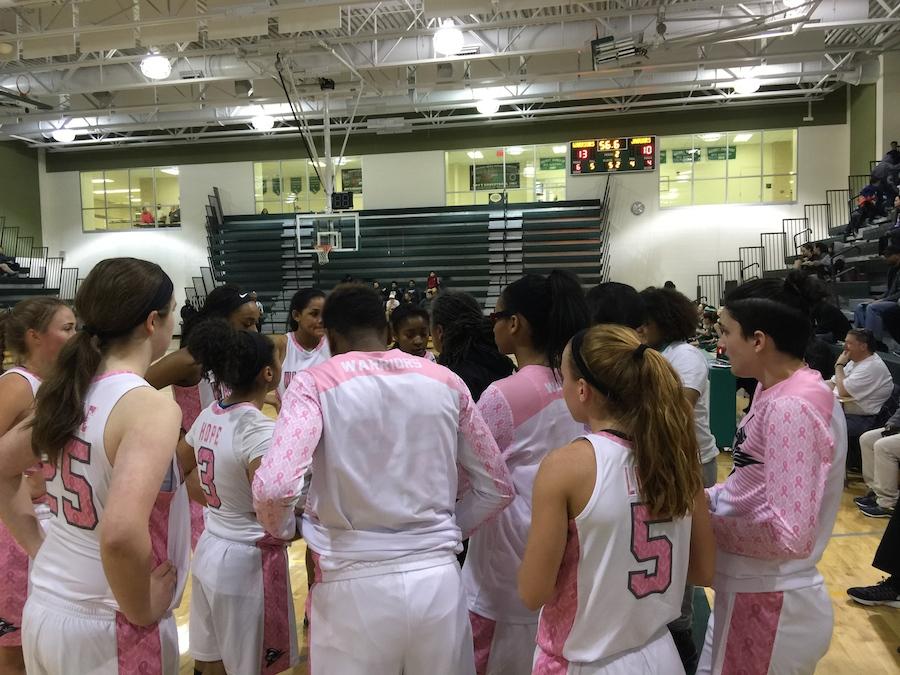 The team shared what they will miss about Liv as she moves on to the next phase in her life:
Coach Rich said, "I'll miss everything. Olivia has been an extremely special person first as a student-athlete and not athlete-student. I'll miss her attitude, her positive influence on the other girls, and it's a quiet positive. She's just a joy to be around, so I'm going to miss everything about Olivia. Just continue to be the kind person that you are. Your generous, you've go a great spirit and great energy. So just continue on that path. I know you'll do well wherever you go, whatever you do, because your just a good person. Olivia, enjoy the moment, enjoy getting older, enjoy college, and come back and visit."
Sophomore Jami Tham said, "I'm going to miss her! We only met this year, yet we have each other's back on and off the court. I really hope she goes to the college of her dreams. Have fun Liv, I love you!
Freshman Michelle Emery said, "Liv is the 'quiet' force that drives the team to do better. We all want Liv to strive, as our senior."
Freshman Lauryn Freeman said, "What I will miss most about Liv is her random moments when she would be really funny, 'cause she's always super quiet. I hope she has a great time in college!"
Junior Lyrin Hatcher said, "I'm going to miss her spirit, leadership, and her consistency on the court. I know I can always count on Liv to give 100% each and every time she steps out on that court. I wish her the best next year in college. We as a team are going to miss her soo much!"
Freshman Hannah Foley said, "Liv has been such a positive role model this past season, I will defiantly miss having fun and laughing with her, on and off the court. Good luck next year Liv! Come back and visit the team!"
Junior Hailey Finlay said, "Liv has be playing school and travel ball together for five years now. From a basketball standpoint, of course we'll miss her 3 point shooting and strap up defense, but she means a lot more than just a few stats, Liv is my family. I'll miss a lot of things next year, from her little comments during practice, to our car rides home, and even just seeing her around in the hallways. She's an amazing person and I know she'll do great things in life, whatever they may be. Farewell yuh crazy little ginger, may our tans from Puerto Rica last forever."
Junior Summer Matlack said, "What I will miss most about Liv would be her positive energy, her selflessness and just her commitment to the team and basketball. She's always smiling and she's always there for us if anyone needs her for anything. Liv, rock on and enjoy your college you experience!"
Ceccato-Bayne has been offered a full ride to play at Bluefield college, a D2 in women's basketball, but has turned down the offer. "I will miss my coaches, my best friends, and the feeling of our team improving and winning."