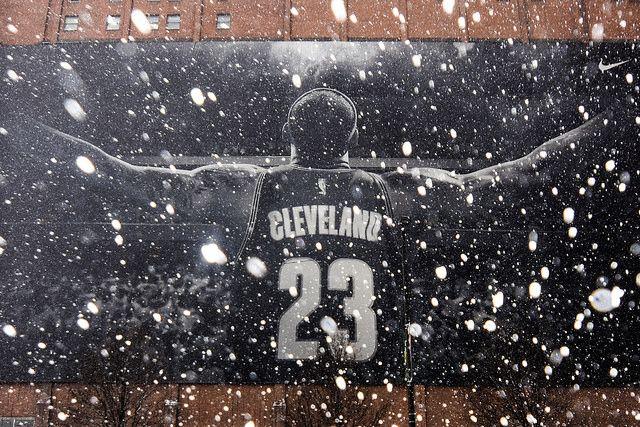 Per CC Lincense: http://tinyurl.com/hq3gtau
2016 NBA Playoffs Update
May 27, 2016
The 2016 NBA playoffs have lived up to the hype. The Cleveland Cavaliers are dominating the Toronto Raptors in the Eastern Conference Finals. The defending champion Golden State Warriors (Western Conference Finals) are playing the underdog Oklahoma City Thunder.
The Cavaliers are on the verge of another Eastern Conference title, as they swept the first two round opponents in the Detroit Pistons and the Atlanta Hawks. The Cavs are lead by four time MVP Lebron James; he has had help from Kyrie Irving and Kevin Love. #thebigthree In the Cavs second win against Toronto, Lebron James passed Shaquille O'Neal for fourth all time in career playoffs points as he scored 23 that game. As of right now, they are in the Eastern Conference Finals and have a 3-2 series lead against the Raptors winning each game very handily in blowout fashion. This is good for James as historically he wins when in this position. His record when going into a Game 6 with a 3-2 lead is 8-1 according to ESPN. We'll see if the Cavs can keep repeating history tonight at 8:30pm. 
The Thunder made a huge first impression as they first beat the San Antonio Spurs in the Semi Finals, a series that highly favored the Spurs. They carried that momentum into the Western Finals as they shocked the Warriors, winning game 1 with a score of 108-102. The Thunder couldn't have won without a huge second half from Russell Westbrook and Kevin Durant, as they rallied from down 14 points at one time. Durant had 26 points and made a key jump shot with 30.7 seconds left to secure them the win. Westbrook also helped in the second half with scoring 24 of his 27 points in the second half and had 12 assist in the game.
In game two of the series the Warriors finally found there groove as they won and tied up the series at 1-1 of a score of 118-91. The Warriors heated up early and kept the momentum throughout the game including a third quarter in which the Warriors really blew it open as they outscored the Thunder 31-19 as 2 time MVP Stephen Curry scored 28 and hit 5 of 8 three pointers 4 coming in the second half.  This really help the Warriors pull out a tough win.
The Thunder came back to surprise the sports universe winning both games at home against "dub nation" on Sunday and Tuesday. The Warriors came back to win last night defending home court, 120-111. We'll see if they can keep this winning streak in Game 6 tomorrow at 9pm.