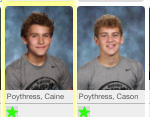 Cason is a senior in the class of 2020. He is in his fourth year as a part of The Chieftain and 2nd year as the Sports Editor. He is the 3rd of 4 siblings to go through The Chieftain. Before Cason was his older brother, Colton and sister, Cara.
Cason also has a younger brother who is part of The Chieftain, Caine. Cason plays Varsity Football and Baseball. He loves hanging out with his brothers and playing basketball. Cason's favorite thing to do is to spend time with his mom.
If you see Cason, he's probably thinking about what his next meal is going to be.
He loves food.
Cason Poythress '20, Sports Editor
Feb 14, 2020

It is Time to Cheer for Our Cheerleaders: Senior Night

(Story)

Jan 07, 2020

New Club Starts Thursday: Make Money, Have Fun

(Story)

May 08, 2019

Varsity Baseball: The Clash of the Senior Nights

(Story)

May 06, 2019

Tennis is Swag: Districts Start Today

(Story)

Mar 12, 2019

Winter State Athletes Made Their Mark This Season

(Story)

Feb 15, 2019

Varsity Boys Basketball on Familiar Road to Conference Championship

(Story)

Nov 30, 2018

Varsity Basketball Has High Hopes for Hot Season

(Story)

Sep 07, 2018

Varsity Football Kicks Off The Season With Big Home Win

(Story)

May 29, 2018

Wakefield Varsity Baseball Season Recap on the Road to Regionals!

(Story)

Apr 30, 2018

Varsity Baseball Student Spotlight: Bingham Moloney

(Story)

Feb 16, 2018

Varsity Boys' Basketball in a Show Down for Conference Championship

(Story)

Feb 05, 2018

Wakefield Boys Basketball Season Recap: Two Games Left in Regular Play

(Story)

Jan 12, 2018

Boys Varsity Basketball: A Season Worth the Watch

(Story)

Dec 21, 2017

George Long Holiday Hoops: Don't Miss Out on This Extra-Ordinary Tournament

(Story)

Nov 03, 2017

Varsity Football Breaks 5-Game Losing Streak, On Track to Playoffs

(Story)

Oct 13, 2017

Football Drops to 2-4, Pushes Hard to Get Ready for Homecoming Game

(Story)

Sep 07, 2017

The 22 Year Yorktown Curse: How One Loss in 1995 Has Caused Years of Heartbreak

(Story)

Jun 14, 2017

The Cappies: Conrad Burns Makes Wakefield Proud!

(Story)

May 19, 2017

Varsity Softball: A Run for Regionals

(Story)

May 19, 2017

Boys Soccer Get a Chance at Regionals with Stunning Playoff Game

(Story)

May 17, 2017

Washington Nationals: Off To An Unforgettable Start

(Story)

May 03, 2017

Outdoor Track Races at Wakefield

(Story)

Apr 04, 2017

Student Spotlight: Co-Captains Sergio Ferrufino-Tapia and John Ruiz

(Story)

Jan 31, 2017

JV Girls Basketball: On the Road to Victory

(Story)

Jan 18, 2017

The Warriors Gymnastics Team Continues To Impress

(Story)

Nov 10, 2016

Netflix Increases Budget For Originals: 2017 is Gonna Be Lit

(Story)

Oct 14, 2016

Ortiz Retires: No One Can Replace Big Papi

(Story)