Alumni Tesay Yusuf Responds Beautifully to Hateful Comments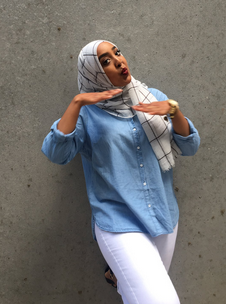 Hang on for a minute...we're trying to find some more stories you might like.
Wakefield grad, and now current Stanford University student, Tesay Yusuf fell victim to rude and racist comments when she appeared in a Stanford football ad wearing a hijab. Yusuf was unaware of the ad when it was first posted.  In an email to The Washington Post she said that her and her friends "thought it was pretty cool that they had used the picture…for the ad and didn't make much of it otherwise."
The ad, which was posted on Facebook, began to have derogatory comments posted underneath it. After seeing the comments Yusuf tweeted out, "when @stanford athletics posts one diverse ad of me and my friends at a football game, and all hell breaks loose." In the email to The Washington Post, Yusuf responded beautifully by not blaming on the school, or even responding to the hateful Twitter trolls.
We DM'ed her, asking how being a Wakefield student helped her respond so gracefully to the situation. She said, "being at Wakefield taught me that people of all backgrounds have a story. And it gave me the space to speak my mind and speak to my experience no matter the situation. At Wakefield, I learned how to utilize my voice in a critical way while also being positive."
We are so proud of our, #warrioralumni!
Read the full article here: LINK