Varsity Volleyball: Finishing The Season Strong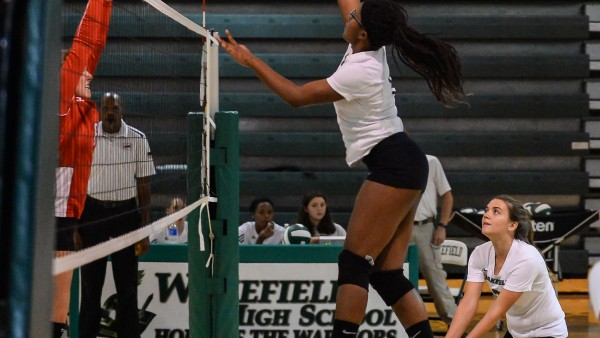 Our Varsity Volleyball team is finishing their season off and can only afford to win from here on out. With only a few games left in the season, most of them being conference games, our girls need to leave it all on the court. The Varsity girls have focused their practice on playing hard every chance they get; they are now on a winning streak.
Having eight seniors on the team to teach the underclassmen how to be successful and work as a team is a huge advantage. Senior Tamara Jackson said, "We're starting to work well as a team." Teamwork has been huge for these girls this season, no matter what the final score may be, these Warriors fight until the end.
How does a team win? This sport can be confusing. Read Myisha's article from last year about sets and points.
The Warriors started their season off with the Rock Ridge High School Volleyball Tournament. They finished the tournament with a record of 2 wins, 2 ties and 1 loss, clenching the 2nd place bracket for the tournament. Sophomore Jenna Alcorn said, "It was a really great way to start the season!" Coming back on such a high note, things took a turn when our girls played West Springfield. Although they had great defense and even better teamwork, it wasn't enough to get the win. West Springfield won all 3 sets.
With a week off and plenty of time to practice, our Warriors were determined to win their next game against the T.C. Titans. The Warriors and Titans battled it out during all of the sets. Our girls never gave up even after going into extra sets. Unfortunately T.C. Williams walked away with the win. The Warriors showed effort from the start of the game until the end. There's no doubt that these girls put hard work and dedication into every game they play.
After losing to Yorktown the girls turned it around and beat Falls Church High School 3 sets to 1. Wakefield jumped to an early lead and continued to fight as Falls Church started to come back, but it was not enough to beat our Warriors. Senior Myisha Ferguson said, "overall we're doing well but there's still room for improvement." With the end of the season coming up and one goal, which is to make it to the playoffs, we have high hopes for our Warriors.
Come support our girls tonight at 7:15 pm vs. Park View! We need @whssuperfans to come out and cheer for your team. Can't make it? Come to the last home conference game against Marshall at 7:15pm on Wednesday, October 26th; this is SENIOR NIGHT for our EIGHT graduating players.