Varsity Cheerleaders Make It to Regionals 2nd Year in a Row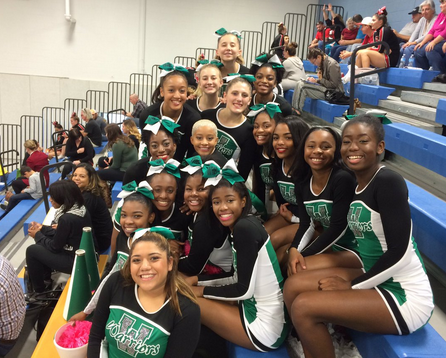 Congratulations to the Varsity Cheerleaders for making it to Regionals during Competition season! These ladies finished semi-finals with 184 points, only twenty-three points away from Marshall High School with 207 points; this took them into second place at the conference championship held at Wakefield in mid-October.
Regionals. Making it to Regionals is a BIG deal. It is like every "Bring It On" movie ever created. Our ladies made it for the second year in a row. Last Saturday, October 29th, the ladies who always support our athletes at every game competed in the Region 5A-North Cheer Tournament. They brought their vigorous dances, school spirit, and high energy.
Last year, the team made it to Regionals for the first time. The girls place seventh out of the twelve teams that competed. They were so close to competing in the second round of Regionals. (Only the top six are eligible to move on to the second round, and only four out of the six can go to states.) The returning leaders have taken the new energy on the team and these ladies aren't going down this year without a fight!
This year the ladies placed eleventh out of the twelve in this region-wide competition. Although they didn't win, they still represented #warriornation to the finish. Everyone showed great sportsmanship at Stafford High School. The noise level was high and the fans yelled green and white with all their might. She said, "It was a great experience to have, especially for our seniors, and this being our second time going to Regionals."

Seniors Rashawn Parent and Tatiana Carter impart advice for the upcoming Basketball Cheerleaders, "Work hard. Stay focused!"