76ers Singer Denied Stage for Shirt She Was Wearing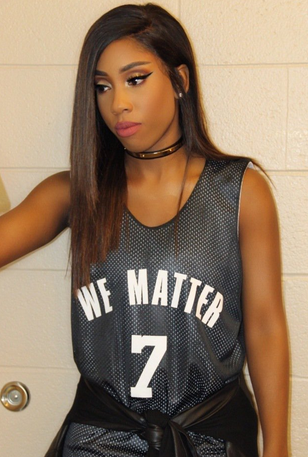 Two Thursdays ago the Philadelphia 76ers played the Oklahoma City Thunder in a lackluster game. The Big Show was actually before the game. Singer and songwriter Sevyn Streeter was scheduled to sing the National Anthem. She was denied access to the stage minutes before she was to perform.
Streeter wore a jersey that said "We Matter." The Sixers declined to give a reason for cancelling the performance. Streeter later commented "I'd say two minutes before we were about to walk out … the organization told me that I could not wear my shirt while singing the national anthem at their game, I was never given any kind of dress code. I was never asked beforehand to show my wardrobe."
The Sixers later released, "The Philadelphia 76ers organization encourages meaningful actions to drive social change. We use our games to bring people together, to build trust and to strengthen our communities. As we move from symbolic gestures to action, we will continue to leverage our platform to positively impact our community." 76ers Head Coach Brett Brown said, "We understand the situation and we respect the social issue involved, we completely get it. As a group, we will try to find a way to deal with this."
Streeter responded, "I was angry, extremely, extremely angry and disappointed and honestly brought to tears by all of it. It broke my heart, Honestly, I was very excited about being able to perform the national anthem. I was really looking forward to that."
As a resolution, the Sixers said that they made a mistake and she would be able to perform at a game of her choosing.