What Does President-elect Trump Have to Do Now?
Election night was a night that most of America thought wouldn't be as stressful as it ended up being. #understatement All the pundits and exit polls showed the Democratic candidate Hillary Clinton winning in a landslide, but that wasn't the case Donald Trump, the controversial Republican candidate, picked up some key victories, surprised the world, and won. Hillary Clinton lost some historically blue states like Michigan, Wisconsin, and Pennsylvania and those states where key to Trump's victory.
So what does President-elect Trump do next? He has to choose a cabinet, meet with the president a couple of times, do about a million interviews, and try to rebuild his relationship with the media, other Republicans, Democrats, and most importantly the American people.
Choosing a cabinet is very challenging; its one of the hardest things for a president to do. The cabinet is a vital part of the presidency, with positions like Secretary of State, Attorney General, and Secretary of Defense are some of the many vital positions that the President – elect has to fill. It seems that Mr.Trump already has his eyes on a couple of people for cabinet positions. So far, we have heard the names Chris Christie, Rudy Giuliani, Mitt Romney, Gov. Niki Hailey of North Carolina, Sen. Jeff Sessions of Alabama, Steve Bannon, Reince Priebus, the head of the RNC, and Dr. Ben Carson all have been interviewed for (and some have received) cabinet positions.
Trump has chosen Senator Jeff Sessions as his Attorney General, General James Mattis as Secretary of Defense, Rep. Tom Price as his Secretary of Health and Human Services, Betsy DeVos as Secretary of the Department of Education, Gov. Niki Hailey as US Ambassador to the United Nations, Elaine Chao as Secretary of Transportation, Steve Mnuchin as Secretary of the Treasury, Wilbur Ross as Secretary of Commerce, and Dr. Ben Carson as the Secretary of Housing and Urban Development.
President-elect Trump has a lot of work to do before the inauguration on January 20th, and his work will only get tougher from here.
The President-elect and the Incumbent President meet a couple times to talk about the state of our country and what the current president can do to help the next president succeed with his proposed plan. President Obama and Mr. Trump have met once in the White House.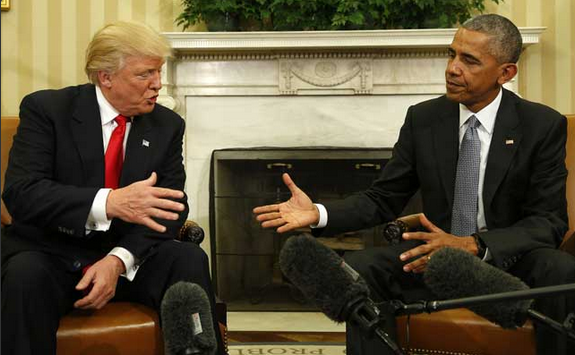 Photo found @globalissuesweb
The meeting consisted of Obama offering his congratulations to the former business mogul. According to the NY Times, Obama said, "I want to emphasize to you, Mr. President-elect, that we now are going to want to do everything we can to help you succeed because if you succeed, then the country succeeds." The meeting between Trump and President Obama shows that they both are forgetting there differences and past brawls and are focusing on whats best for our country.
Another thing the President-elect needs to do is begin to rebuild his relationships with the members of his party. Many high-ranking members of the Republican Party have come out and voiced their support for the new President-elect, but it's still going to take some time to rebuild the relationship between the party and Mr.Trump.
He's going to need all the help he can get. In a press release prominent Democrat Senate leaders and newly elected Senate Minority Leader, Chuck Schumer stated that they would work together with the President-elect on issues that would the best choice for America's future. But there also has been some friction in helping him as well.
Mr.Trump has a long way to go before his inauguration but the former New York business man is ready to get down to business and get to work!
Leave a Comment