How Wakefield Students Earn their Money
School, homework, sports, clubs and other activities can fill up your planner pretty quickly. Usually high school is also a time for students to begin working and earning their own money. Some students earn money to pay for college and save up for future plans. Others earn money for daily needs. Some students just want to be support themselves. How easy is it to juggle school and a job? Here's how some Wakefield students responded:
Elizabeth Milton '14 has 3 AP classes and speaks Arabic. Her hobbies are traveling, sports, and experiencing new things. Her love for new opportunities is the main reason she started to work at Aldo, a shoe store. She has been working once or twice a week for two months. She is very content with her friendly and energetic co-workers, and has a flexible schedule. This schedule really helps her get all of her homework done on time. Liz says that the only difficulty thus far has been dealing with sassy customers.
Keith Rutkowski '14 plays lacrosse and runs indoor track. Keith works at Aarow Advertising. He works every weekend and has been doing this job for almost three years. Keith is not scared to admit that his job makes good money, but the downside is that his time is limited. Keith says that combining school with a job is not easy at all, because of all the time it takes up. Keith wouldn't give it up, it allows him to make his own money and spend it on his own priorities.
Mobin Fateh '14 is interested in photography. He's been working at Popeye's for almost a year and a half, 4 or 5 days every week. He says that working this amount of time is very difficult and managing his time becomes a challenge. He is very content with his job, schedule, and salary. Mobin enjoys working at his job because he can relate with his co-workers, but he also understands that it is a big responsibility which can become hectic and frustrating.
Isabel Bolivar '15 takes on Bolivian dancing. Her schedule is very busy, but she finds time to work. She is a waitress at The Luna Grill and Diner. Isabel started to work when she was 14 years old and now she works about 16 hours a week. With her job's flexible schedule she can easily combine school and work. She has an A/B average and her job does not get in the way at all! Isabel says the most interesting part of working is associating with many different kinds of people. Isabel says that she doesn't really have any complaints, besides the fact that she is always on her feet. She loves to put a smile on a customer's face, "It is my goal to make people feel good and content."
Leave a Comment
About the Contributor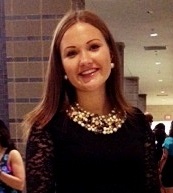 Luiza Sevele '15, Staff Writer
I am a 17 years old foreign exchange student  from Latvia. I believe that everyday brings new experiences, ideas, and surprises. So keep your eyes and...