UEFA Champions League Match Day 5: Down to the Wire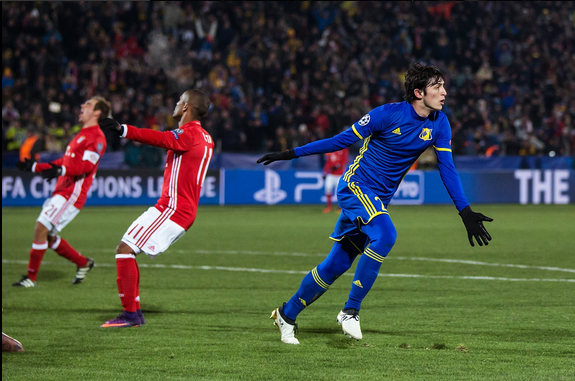 The drama begins… Battles for  Round of 16 births. How did your favorite team do?
Group A
Exciting match with a lot of action. Cavani starts of the game scoring in the 18th minute followed by a penalty in the 46th from Giroud and own goal from Verratti in the 60th minute. Ben Arfas, corner finds Lucas and he heads it into the net for the 2-2. My MOTM is Lucas.
Ludogorets Razgrad 0-0  FC Basel
Very uneventful game, a deadlock for 90 minutes with no goals from either side. MOTM DOUMBIA
Group B
Very uneventful match once again as Napoli ties Dynamo (0-0). My MOTM is Khacheridi.
Great game with Besiktas goals from Cenk Tosun, Ricardo Quaresma (Penalty), and a last minute goal from Aboubakar. Goncalo Guedes, Nelsinho , Lubomir Fejsa. Besiktas came from a 3-0 deficit to win 3-3 what a match!!! MOTM ABOUBAKAR.
Group C
Celtic 0-2 FC Barcelona
Messi is on fire today with 2 goals one in the 24th and the other in 55th minute through a penalty. Barcelona was the obvious favorite and got the deserved win. MOTM MESSI
Borussia Mönchengladbach 1-1 Manchester City
Another deadlock between these two teams with goals from Rafael in the 23rd and David Silva in the 46th. 2 red cards were given in this game, Stindl gets his second yellow in the 51st and is sent off. Fernandinho also gets his second yellow in the 61st minute and now both teams have 10 men.  MOTM DAVID SILVA
Group D
Great match but very disappointing for Bayern as they come second in the group. Goal scoring is started off with Costa as a rebound is cleared horribly and Costa guides it into the upper net. Rostov strike next after a horrible pass from Costa is intercepted and Poloz scores. Rostov played a very good game today with 2 more goals from Poloz and Noboa. MOTM POLOZ.
No action in the first half with no goals from either side. In the 55th Gameiro places a nice shot in the bottom corner. Griezmann makes it 2-0 in the 66th minute and wraps up the game for Atletico. MOTM GRIEZMANN
Group E
AS Monaco 2-1 Tottenham Hotspur
This game was exciting… for the early part of the second half. Monaco drew first blood in the 48th minute but spurs comeback quickly with a penalty in the 51st minute. Immediately after in the 52nd minute Thomas Lemar makes it 2-1. My MOTM is Thomas Lemar.
CSKA Moscow 1-1 Bayer Leverkusen
Thrilling game, shame it was a tie. Both teams had many opportunities to win but they weren't taken. My MOTM is Natcho for salvaging a point Muscovites.
Group F
This game shouldn't have been as close as it was, both in this and the reverse fixture. The Spaniards struck first by a close range strike by Raphaël Varane. Yet the Portuguese earn a penalty and convert it late in the game. But Karim Benzema saves Madrid. The Frenchman flies high to convert a header. My MOTM is Benzema for saving Madrid.
Borussia Dortmund 8-4 Legia Warsawa
This game was a record breaker. The most goals ever scored in a UCL (UEFA Champion League) game. 12 GOALS! THATS A GOAL EVERY 7.5 MINUTES. WHAT THE FUDGECICLES. Anyway this game was just goals galore. My MOTM is Marco Reus for after coming back from a 6 month injury and scoring a hattrick and an assist brace.
Group G
2-1 Leicester pretty uneventful game Leicester win with a penalty and a goal from Mahrez. MOTM Mahrez.
FC København 0-0  FC Porto
Dead game nil-nil. My MOTM Ivan Marcano
Group H
Dinamo Zagreb 0-1  Olympique Lyonnais
Also a dead game. My MOTM is Alexandre Lacazette for his tap in
Absolute class from the old lady. Sevilla should have really done better at home. My MOTM Bonucci for being a rock at the back and also getting a goal.
One more Match Day to go!!!! #ripchapecoense #forçachape
Leave a Comment