Gymnastics Team Makes History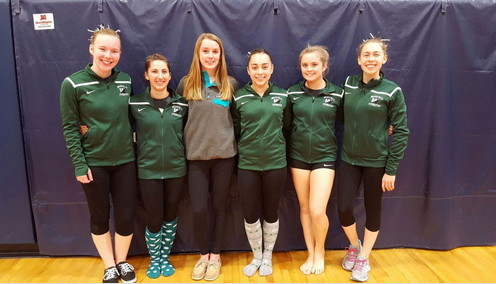 These ladies have flipped their way into #warriornation's heart. The team has come a long way in just a few years thanks to Coach Nancy and Coach Lindsay's dedication and the team member's persistence. The first real test this season was on Monday, December 5th at Edison High School. The team competed (They did not play…gymnastics vocabulary…) against some strong schools: Marshall, Thomas Jefferson, Falls Church and Edison High Schools.
Senior Marika Mortimer said of the team this year, "it's less about making history and more about watching the team grow. Now the people who are on the team seem to genuinely care and BONUS! everyone is really good."
To understand how these lady warriors made history, a little vocabulary is needed.
Vault is the event where you run at a table looking thing with a spring board in front of the table looking thing (vault table). You then jump on the spring board, propel yourself over the vault table (with your hands on the vault table), then flip or twist and eventually land on your feet. Our ladies did amazing on vault at Edison: Anne Felipe scored 8.6, 6th place. Sydney Hanley scored 8.65, 5th place. Gabby Spranger scored 8.9, 2nd place.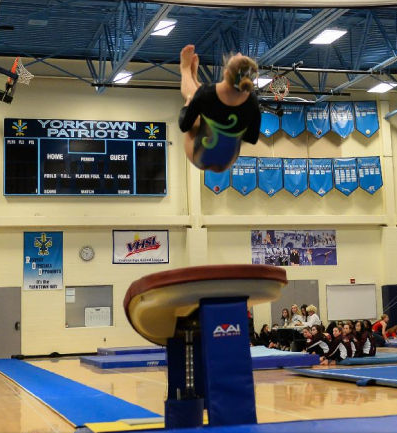 Bars are literally two bars of varying heights. Gymnasts do kips, clear hips, fly aways, and a few can do giants on the uneven bars. Anne Felipe scored 7.55, 4th place. Gabby Spranger scored 8.55, 2nd place at the December 5th event.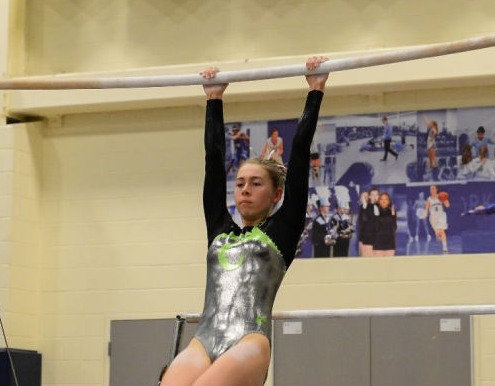 Beam is four inches wide and four feet off the ground. Gymnasts do cartwheels, round offs, back hand springs, switch leaps, and varying jumps on this narrow beam. Anne Felipe scored 7.775, 5th place and
Gabby Spranger scored 8.25, 1st place on beam at the competition at Edison.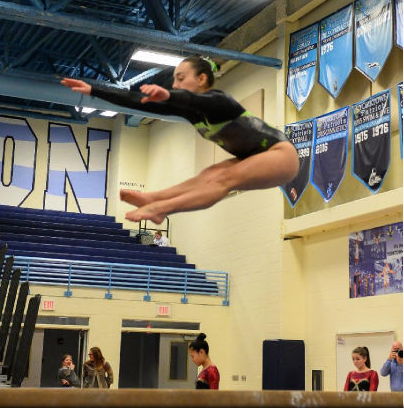 Floor is the event on the floor. There are flips on a mat. It is pretty awesome to watch. It is the event with the most creativity. Gymnasts have choreographed routines to music with dance elements and tumbling intertwined.  Anne Felipe scored 8.4, 4th place and Gabby Spranger had a very memorable routine and scored 9.1, 1st place.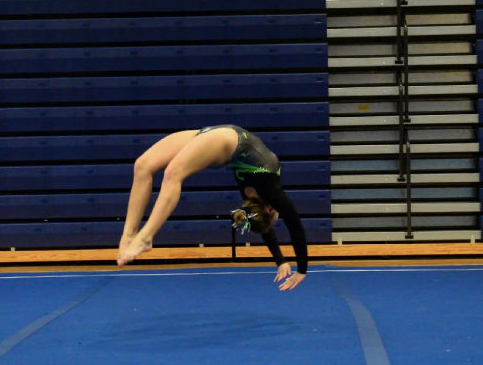 All around is the total score of all four events added together.
Sydney Hanley earned 30.125, 5th place. Anne Felipe earned 32.325, 3rd place. Gabby Spranger earned 34.8, 1st place.
TEAM is the top fours scores in each event (vault, bars, beam and floor) added together.
Wakefield scored 126.75 and earned FIRST PLACE for the first time in 8 – 10 years. #makehistory #warriornation
Now that you know some of the terms for events, go support our history making team on the Wednesday after Winter Break. They compete at Yorktown at 6:30pm on January 4th.