Chapecoense: A Team That Will Forever Be Remembered
Chapecoense were the under dogs. They were on their way to the Copa Sudamericana Final, a final no one expected them to be in. A miracle happened. The team beat San Lorenzo to get to their first ever Copa Sudamericana Final. The men were smiling, laughing, and dancing; they couldn't believe the victory.
"If I die tomorrow I'd die a happy man" said Luis Carlos Saroli, Chapecoense Manager shortly after the win. A couple of days later, tragedy struck.
They boarded their flight bound for Medellin, Columbia, for the first leg of the final. Nervous, they took their team picture, and boarded the plane. Mid-flight, there was a reported problem. All of the electricity in the plane went out, and the plane ran out of fuel. Right outside of Medellin, the crash happened.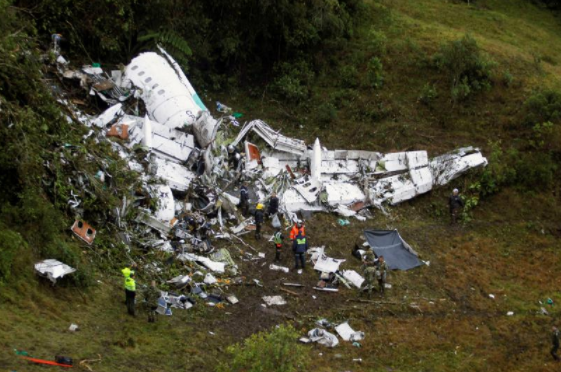 Photo found @switchfoot
It is reported that 6 of the 81 passengers survived initially. Marcos Danilo Padilha was the only one that survived the initial crash and passed away on his way to the hospital, right after calling his wife.
Of the ones who passed away, Tiaguinho found out he was going to be a father a week before this tragedy. Anderson Paixao, who was part of the Chapecoense coaching staff, died just before his son's 9th birthday. After Physiotherapist Rafael Gobbato's death, his cousin wrote on Facebook, "Even though we know that one day the life ends, you're never prepared to lose someone. Go with God my dear cousin," (Translated from Portuguese).
Jakson Ragnar Follmann (Keeper) survived but had one leg amputated and may have the other one amputated as well. Alan Ruschel survived but went through spinal surgery. Hélio Hermito Zampier Neto also survived, but is in intensive care for skull, thorax, and lung trauma. One ray of hope is that doctors have told him he will be able to play football again.
Those who didn't fly are Goalkeeper Marcelo Boeck (because it was his birthday), Alejandro Martinuccio (stayed back due to injury), and veteran keeper Nivaldo (because he was preparing for his 300th game against Atletico Minero, the team they were to face the last game of the season). He originally wanted to retire immediately upon hearing the news, but now has decided to play in honor of his fallen teammates.
Teams all around the world are taking a moment of silence. Liverpool, before their FA Cup game, had a moment of silence, and their fans chanted a mournful version of You Never Walk Alone, just listening to the chant gives you goosebumps.
Paris St-Germain have notified FIFA they will donate €40 Million ($42,609,200 USD) to the team, and Cristiano Ronaldo has donated €3 Million ($3,195,690 USD) to the team and the families of the victims.
The Eiffel Tower has been lit green and white; the Wembley Stadium's Arch was lit green, and all over the boards ForçaChape was written; the Allianz Arena has been lit green; and the Redeemer Statue in Rio de Janeiro has been lit green.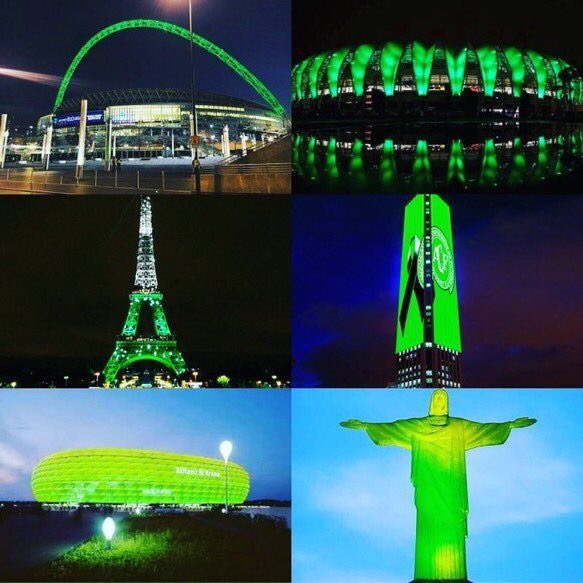 (Photo found @FootyMemes)
Professional soccer players, Willian and David Luiz, both native Brazilians, payed tribute.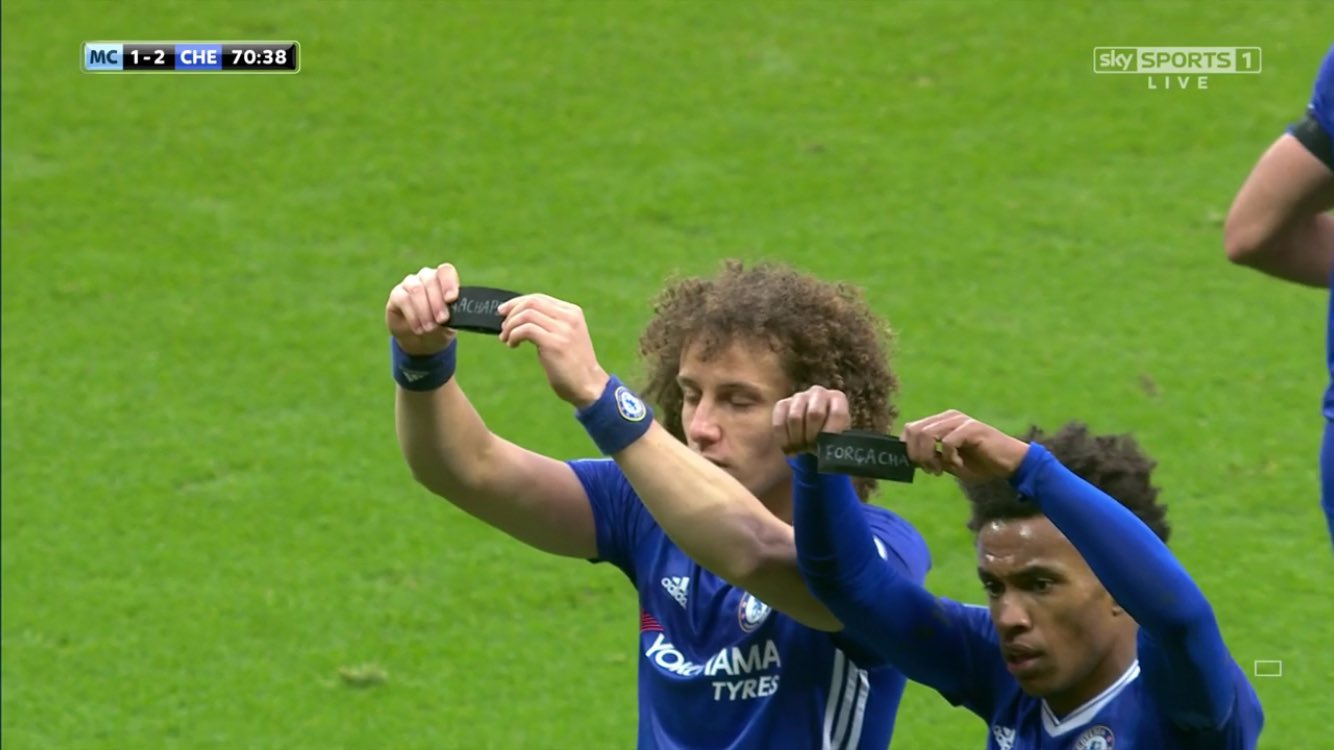 More than just mourning, players are trying to find ways to support rebuilding the team. Top Brazilian teams are willing to give transfer players for a year to Chapecoense. The Brazilian Football Association has granted Chapecoense a 3 year grace period in which if at the end of any season in the 3 years they end up being the relegation zone they will not relegate them they would instead relegate 5th to last. (Relegation definition: The best-ranked team or teams in the lower division are promoted to the higher division for the next season, and the worst-ranked team or teams in the higher division are relegated to the lower division for the next season. In some leagues, playoffs or qualifying rounds are also used to determine rankings).
In EA Sports FIFA 17, all who logged in to the Ultimate Team game mode, were given the Chapecoense Badge and Kits for free as a sign of respect. Legends Ronaldinho and Riquelme have offered to come out of retirement to play for them for free. Ronaldinho confirmed he will be playing for Chapecoense. During El Classico (Barcelona vs Real Madrid, one of the most watched games in world football) both teams had a moment of silence for Chapecoense and both teams agreed that all money made from the game is going to be given to the team and families of the deceased. Atletico National have informed CONMEBAL (South American Football Association) that they forfeit the final, and the final was awarded to Chapecoense.
It is truly heartwarming to see the how the world has reacted to such a disaster. They will forever be remembered in our hearts and in our minds. #FORÇACHAPE #RIPCHAPECOENSE 
Leave a Comment