To My Future Self: Remember All of This in a Decade
Hey there! I really wish I could travel in time to have a look at what you look like now. You must have become a pretty young lady as everyone is expected at my point in time. Okay, enough of chatting, although I am really up to it.
The main reason I write you a letter is not so much to talk about our appearance. Instead, I'm here to tell you what we (well, I'm you and you are me) have gone through, and remind you of what I have already learned about life at 16 years old, that you have most likely forgotten at 26 years old. Maybe you will seal it in your memories. Please hold your breath, for what you have forgotten will shock you.
When we were young, we did lots of dumb things. Remember when we used to sing in the elevator of the apartment complex? (That might a little bit awkward when you think of these memories, now.) And when we danced like nuts in department stores as soon as we heard the music we liked? Also, we met people who were really nasty. We didn't become their friends. We made friends with people who really understood us. Do you remember our best friend, Lucinda? We liked the same things and did them together; hopefully we are still BFFs. She always reminds us of the right from wrong. Obviously, we still need her in our life.
Remember the times we fought with our sister? Sometimes it was for fun, and sometimes it was frustrating. But, we know that we love her a lot. I wonder if you guys are still close to each other? Or are you guys in a cold war? It doesn't matter, because you will know that you are the most important person to each other in the world. Just like what mom and dad said when we were young, "your sister will be the only one to support you and keep you company." I guess I don't need to repeat that again, like our parents did, because I have confidence in you that you have figured out the best way to enjoy each other's company.
We went to the US when we were 15 years old; remember how happy we were when we heard the news from our dad? We started packing our luggage and waiting for the day to get on the plane. When we touched the soil of America, we were delight with joy. Then, we start to meet our dad's friends and made friend with their kids. First time in the school, we were a little bit shocked and felt frustrated by the great differences in school from those of our country. For instance, the breaks between classes in Taiwan are 10 minutes long, but in the US we have only 6 minutes, and that includes the time needed to walk to the next classroom. We were afraid of drinking water because we did not have time to go to the restroom. Although mom kept on telling us that's not healthy, we insisted and found our own way to get around.
We did so many dumb things that sometimes made our parents furious. Do you still remember the first time we lied to our parents? Yes, we lied because we were lazy and didn't want to memorize the vocabulary that dad prepared for us. After dad found out, we were punished. Thinking of that now, what a fool I was, I bet you know how dumb we were. I hope that you remember this lesson and aren't lazy.
I don't know what you have gone through all these years, but I hope you will not become the kind of people who you use to dislike: people who like money too much or just want a rich boyfriend. On top of that, I hope the wonderful experiences you had back in the US has benefited your career now, and you still deeply believe that you will make a difference in the world.
One last thing I want to share with you is about the relationships with the people who love you. Please keep in touch with the great friends you had in middle school! Please think of your dad and mom wherever you go. They all understand that you have your own life to explore. No matter how busy you are, just drop them a line to let them know that you are thinking of them all the time.
The precious connections between friends and family are what make your tick!
Hope you remember this little secret forever! Always believe in the silly girl that still lives in you, remember your true colors, and make the most use of the challenges that test you!
Sincerely yours,
yourself a decade ago
Leave a Comment
About the Contributor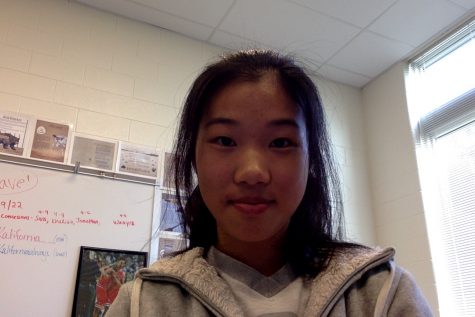 Qiao Huei Liu '19, Staff Writer
Hi, my name is Qiao Huei; you can just call me Selena. I really like music and I can play piano; it's my first time in Wakefield HS, I really like it here,...