George Long Holiday Hoops (and First Game after Winter Break) Recap
Our boys fought hard, played their hearts out, and pulled off some very impressive moves against some pretty tough teams. They ended the tournament 2-1. They are now 8 – 3 for the season.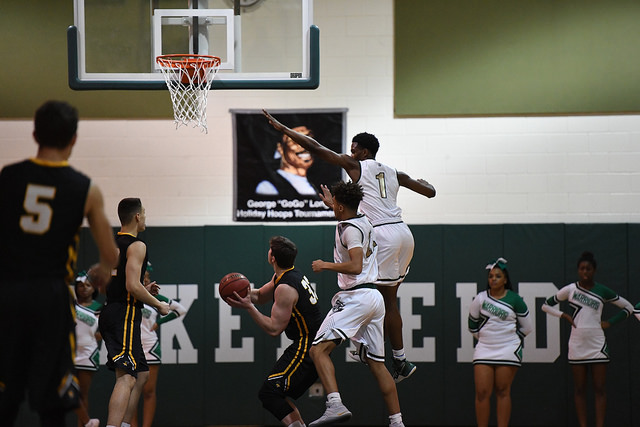 Photo by Mr. Blair, Geometry teacher
The first game was against a very tough opponent from Pennsylvania, Central Bucks West. Our Warriors once again proved that they are a force to be reckoned with! Our boys were up by a point at half time. They outscored Bucks West 25-8 in the third quarter. Senior Halil Parks dropped 25 that quarter, Senior Alan Treakle went off and scored 15 points and also got an impressive 9-9 from the line. Junior Amari Cooper also had an amazing game, scoring 1o points and grabbing 6 rebounds. The final score of the game was 72-55, Wakefield.
Wakefield moved on to the second round where they faced South County. Once again, they killed it. They were down at the beginning, due to some very good shooting from the Stallions, but that didn't last long as our Warriors came back strong. Junior Amari Cooper led the team with 27 points and 7 rebounds, Senior Alan Treakle dropped 13 points, dished out 5 assists, and grabbed 5 rebounds, Senior Halil Parks also balled out dropping 12 points, grabbing 3 rebounds, 1 block, and dished 3 assists. With this 70-64 win, the Warriors earned their place in the championship against a tough Glenelg County (D1) team.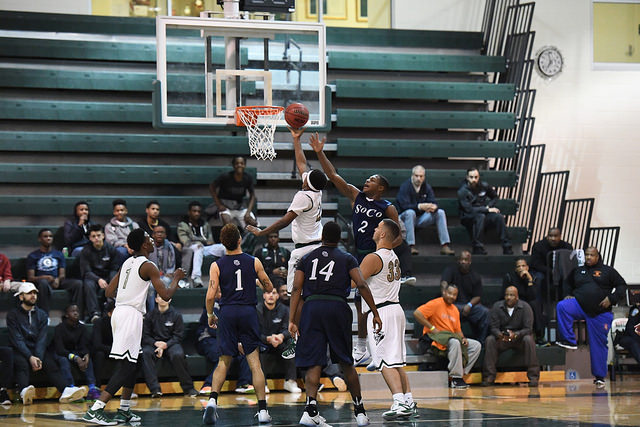 Photo by Mr. Blair, Geometry teacher
In the Warriors third and final game of the holiday tournament, they played hard and never gave up. Our boys came up short at the end, losing the game 52-47. The Warriors were lead offensively  by Senior Halil Parks who dropped 17 points and was cash from behind the three point line hitting 5 out of 7 shots behind the three point line. Seniors Alan Treakle and Halil Parks were both named to the All-tournament team.
Our boys came into the first game after Winter Break tired. They were down 25-24 against TJ Science and Tech at the half.  That is how the whole game went. Down by 1, up by 3, down by 2, up by 2. With 56 seconds left in the game, (Thanks, Ms. Deskins! Your TWITTER FEED IS LIFE!) the boys were up, 47-43. Our warriors kept the opponents at 43 and added 5 more points, with the final score 52-43, Wakefield.