Girls Varsity Takes Major DUB: Holiday Tournament (and First Game after Winter Break) Recap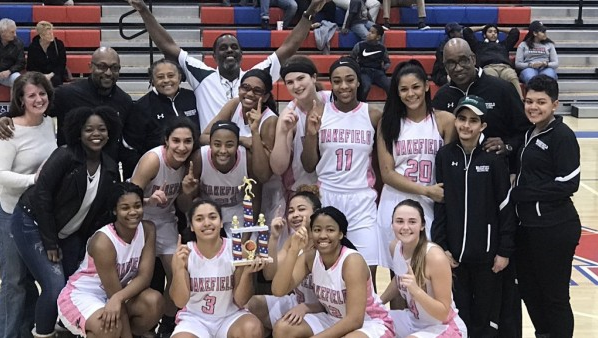 What an amazing showing at the Park View Holiday Classic for the Varsity Girls Basketball team! Great start. Great finish.
These warriors took on Phoebus High School in the first day of play. Senior Hailey Finlay led the team with 14 points, 5 assists, and 2 steals. Senior Lyrin Hatcher added 13 points, 5 steals. Junior Jami Tham rounded out the top scores of the night with 12 points, 8 rebounds (what!) and 4 steals. The team beat Phoebus 55-43. Soild start to the tournament.
The second night of the tournament was magic against Park View (Sterling). Senior Lyrin Hatcher stole the show with an outstanding  26 points, 5 rebounds,  2 assists, 1 block, and 4 steals. The team stuck together on the court. Our ladies had 20 team assists. Final score was 69-51, Wakefield.
Excellent sharing of the ball on a team with four new players, three being freshmen and untried at the holiday tournament level.
While others went to bed on Tuesday, January 3rd right after the first day back to classes, these ladies had to travel to TJ Science and Tech to defend their championship title against an aggressive opponent. It was close the entire game. These ladies had to earn every point on that board. Senior Summer Matlack  put 10 on the board, along with senior Lyrin Hatcher. Senior Hailey Finaly added 8 points. Junior Jami Tham put on two hard fought points that night and 8 rebounds. Sophomore Lauryn Freeman added 2 points and sophomore Hannah Foley added 6. The final score was 38-32, Wakefield.
Come see them play TONIGHT at the double header vs. Edison at 5:45pm. #blackout