Girls Varsity Recap: The Last Four Games
The Girls Basketball team season record is now 11-2. "I always think we can do better. We are winning, but we really haven't (other than the Marshall game) as a team had one of our break out games. I am waiting for us to peak. Everyone has to peak at the right time. I think if we peak now, we are ready. We will be unstoppable." said Coach Rich of the season so far.  Let's see how our team did in their last 4 games.
Wakefield vs Edison (47-38, Edison)
Friday, Jan. 6th Girls Varsity lost the Double Header against Edison. Although this was a hard game, these ladies still showed Edison the Wakefield way. This intense game had you shaking and on the edge of your seat. "We are about halfway through our conference season. We wanted to be undefeated. We now have to learn from our Edison loss. We get another shot at redemption during conference play. Hopefully that also means we face off against them in the playoffs. We are doing better than we have in anyone's memory. This is the strongest team we have had. We want to capitalize on that" said sophomore and Power Forward Hannah Foley. Don't worry, these ladies still have the second go round with this team on Jan. 31st!
Wakefield vs Gwynn Park (46-40, Wakefield)
The team from across the bridge got a taste of the Warrior strength. By halftime, the girls were up twelve points and leaving out of the locker room, they took advantage of the lead and continued pushing until the last few seconds.
Wakefield vs Marshall (63-45, Wakefield)
These ladies came out ready to win, with the mindset and a new found strength. Marshall came out with a powerful 6'4 center and the Wakefield girls shut her down. Everyone had a great game!
Wakefield vs Northern Nash Knights (50-33, Wakefield)
Our ladies traveled to NC on Friday for a Saturday game. There was a chill to the air. It seemed gloomy and cloudy…until the team hit the court at 6pm. Our Warriors were fired up and ready to show NC what Coach Rich has taught them. It was a scrappy game. There was a lot of running, there were a lot of steals…Lyrin was on the foul line…a lot. Having it be an away (far away!) court put our ladies at a disadvantage. Our ladies showed them how Virginia plays. The most memorable thing was that the other team couldn't keep up with that Warrior stamina on the court.
#WarriorNation! Come tonight (Jan. 17th) to the game at 7:15pm! It is Wakefield Warriors vs Falls Church Jaguars! (You know it will be good.)
Leave a Comment
About the Contributor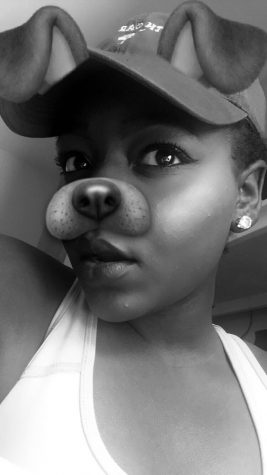 Kali Burroughs '18, Opinions Editor
Kali is a junior at Wakefield and this is her second year on The Chieftain staff. She enjoys shopping, laughing with her friends, and watching basketball....