No Shave November
A full, healthy beard may be the hardest thing for a young man to grow. At the beginning of November, determination was high among Wakefield students; thoughts of bearded faces made people excited for the month. Many didn't last and shaved after the first couple weeks. Beards growing in random patches and a general lack of facial hair were deciding factors in who made it to the end of the month.
KJ Rutowski '14, possibly one of the only males who didn't shave the whole of November, had one word to describe his month, "good." KJ went on to explain that he was pleased with his results, and the majority of people liked the look. He did have some difficulties however, the area between his beard and mustache didn't grow, and his mustache wasn't as thick and full as his cheeks and sideburns were.
KJ shared his ultimate goal, "I want my beard to be Duck Dynasty length." KJ has yet to shave his beard, but shaved his mustache on the first of December. When asked what he likes better, he responded with, "beard all the way!" The beard was easy enough for KJ to grow. When not growing facial hair, KJ has to shave every three days. KJ started shaving when he was 14 years old, and grew his first beard at 15. "People often mistake me for a college student," KJ chuckled.
No Shave November started as a campaign to raise cancer awareness. It has become so popular, that many do not even know the origin of the No Shave November movement. Didn't participate this year? Start planning now! There are only 315 more days before the next No Shave November. Check out this website for more information: http://www.no-shavenovember.com/
Leave a Comment
About the Contributor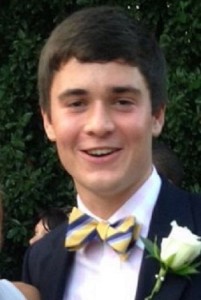 Leo Biette-Timmons '14, Sports Editor
Leo plays varsity baseball and swims. He is the captain of both, and has played each sport all four years of high school. Leo is the head Super Fan,...