Swimmers Race to Regionals
With three Wakefield swimmers heading off to regionals–the most in recent history–the Wakefield community is overflowing with enthusiasm and excitement in anticipation of a splashing victory. The many new people who joined the swim team this year have already banded with the returning swimmers to make big waves. Wakefield's swim team, coached by Sean Carey, Greg Campbell, and Angeline Palmer, rapidly became competitive this year as they overcame rip currents that threatened to pull them under and eventually rode a rising tide.
"No matter how many times we lose, we still keep going," said regional-bound junior Matea Mladenovic. Being a part of the swim team requires "self discipline, endurance, and commitment," noted freshman Emily Andrews who also is competing in regionals.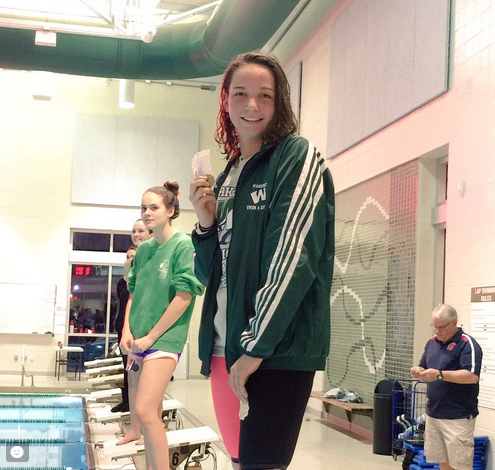 More than just a team, they are a family. "Our team likes to engage in friendly cheer battles with the competing team at meets," added Matea. Like many other Wakefield sports teams they enjoy their pasta dinners where everyone comes together to enjoy good food and laughs.
They are not just treading water either–they all made a deep commitment and put in a lot of extra effort to be the best they can be. "The swim season went really well," revealed junior Connor Sughrue, who is also heading to regionals. "Over the past couple of years the team has been working really hard and we are able to show that this year." Fellow swimmers affirmed the importance of working hard and being self motivated. The team gushes with pride and spirit as they talk about how they cheer each other on in and out of the water.
Come shake a fin for Wakefield Warriors junior Connor Sughrue, junior Matea Mladenovic, and freshman Emily Andrews, as they compete in the regionals meet this Friday, February 3rd starting at 12:45 pm at Colgan High School in Manassas.