A Recap Of The NFL Honors
On Saturday February 4, the sixth annual NFL Honors Awards Show aired live from the Wortham Theater Center in Houston Texas. This year actor and comedian, Keegan-Micheal Key, was the host that celebrated these players and their achievements. Let's review some highlights from another year of excellence in the NFL.
Offensive Rookie of the Year: Dak Prescott
Intended to be a backup quarterback, Dak Prescott became the starting quarterback for the Dallas Cowboys after Tony Romo was injured in the preseason. Although he was only a "rookie," his performance resembled a veteran, throwing 23 touchdowns and only 4 interceptions in the 2016 season. His very own teammate and good friend, Ezekiel Elliott was also a nominee in this category. When Prescott was announced the winner, he brought Elliot on stage with him and immediately asked "Do we have a knife so I can split this in half?"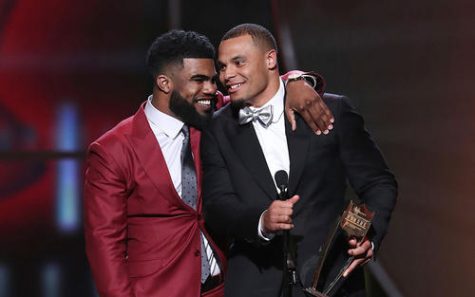 Defensive Player of the Year: Khalil Mack 
Also nominated for Performer of the Year, Kahlil Mack had an incredible season. Mack is a defensive end and outside linebacker for the Oakland Raiders that scored his first career touchdown off of an interception in Week 12. Khalil Mack took to Instagram to thank his "fellow NFL peers", "the entire Oakland Raiders organization", and his mom, dad, family and friends.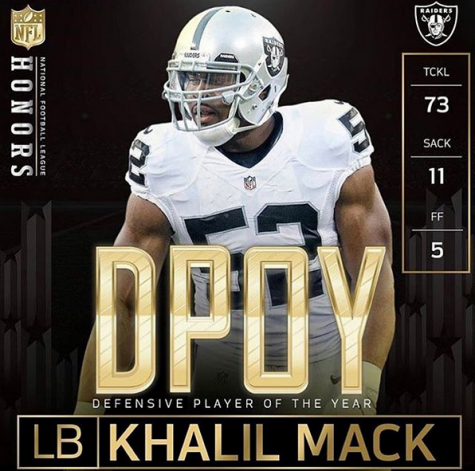 Comeback Player of the Year: Jordy Nelson
After a season-ending injury in 2015, wide receiver Jordy Nelson bounced back and led the NFL with 14 touchdown receptions. Nelson has had a great eight seasons with the Green Bay Packers. During his speech he said, "To be able to be out there again this year and play in all 16 (regular-season) games was an honor and you realize how much you miss it when you miss a whole season."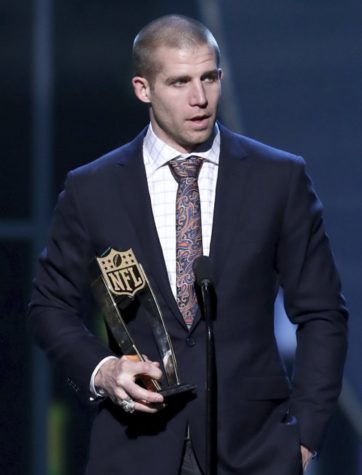 Walter Payton NFL Man (MEN) of the Year Award: Larry Fitzgerald and Eli Manning
Although this award is the "Walter Payton NFL Man of the Year Award, there were two men that won this award. Eli Manning, quarterback of the New York Giants and Larry Fitzgerald, wide receiver of the Arizona Cardinals displayed excellence on and off the field. Larry Fitzgerald established the charity organization The Larry Fitzgerald First Down Fund to help kids and their families. "This is truly one of the greatest honors of my life," said Fitzgerald. Eli Manning has been active in children's causes for years now. He currently leads the Tackle Kids Cancer organization. Manning said, "I'm really proud of the NFL for highlighting the great work that so many players are doing for their communities and people in need."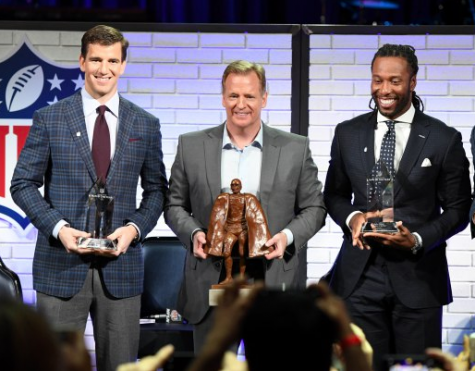 Coach of the Year: Jason Garrett
In 2007, Garrett was hired by the Dallas Cowboys as an offensive coordinator. He guided the Cowboys to the become the 2nd best offense in the NFL and was eventually promoted to head coach in 2010. Not only did his team go 13-3 this season which earned them the top seed in the NFC, his team went 13-3 after losing its starting quarterback in the preseason. He began his speech announcing that this was a "team award, not an individual award." He finished his speech saying "It's a privilege: not a right to play, coach and work for the Dallas Cowboys."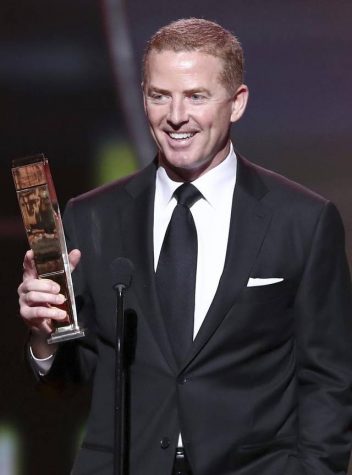 MVP (Most Valuable Player): Matt Ryan
On the eve of the Superbowl in which he was playing in, the Atlanta Falcons quarterback was voted the MVP of the 2016 season. Matt Ryan had a phenomenal season throwing 38 touchdowns and getting his team through the playoffs and to their 2nd Superbowl appearance. Ryan has played for the Falcons for 9 seasons now and is the only quarterback in their franchise history to lead their team to and 8-0 start.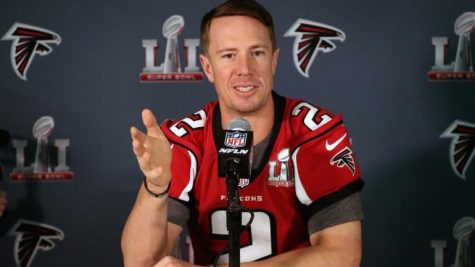 Pro Football Hall of Fame Class of 2017: 
Morten Andersen (Kicker, 1982-2007)
Terrell Davis (Running back, 1995-2001)
Kenny Easley (Safety, 1981-1987)
Jerry Jones (Owner, 1989-Present)
Jason Taylor (Defensive end, 1997-2011)
LaDainian Tomlinson (Running back, 2001-2011)
Kurt Warner (Quarter back, 1998-2009)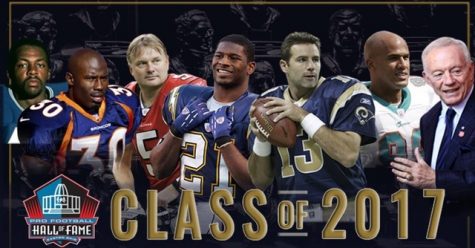 For more about the Pro Football HOF Class of 2017, go to http://www.profootballhof.com/ or check them out on Twitter, @ProFootballHOF.
Congratulations to everyone on their amazing achievements! Thank you all for another great football season!! See you in September.