Cross Town Rivals Fall in the New Gym
The Yorktown Patriots (2-2) came to Wakefield (4-1) with high hopes on Tuesday, December 17th. In the starting minutes of the game, the score was close. Then, the Warriors began to pull away and never looked back. Yorktown is a cross town rival. JP DeFranco '14, transferred from Yorktown at the end of his sophomore year. He stated with a grin, "I love playing Yorktown. I also love the sign that the superfans made that says,'JP Does Not Miss You.' I don't." Yorktown had a respectable crowd for the game, but they could not be heard over the cheers of the #whs superfans. The Warriors led 27-16 at the half, and showed no intentions of slowing down. Guard Deng Nhial '16 completed a massive slam dunk in the second quarter, electrifying the crowd even further. Coach Bentley kept the boys working and striving, even in the last few minutes of the game. They never stopped working. It shows in the score. Wakefield won the game 65-38. There are areas to work on; Wakefield shot a 50% from the free throw line, going 17-34. Free throws have plagued the Warriors this year. They are shooting roughly 56% for the season. Yorktown also shot 50% from the line, sinking four of eight free throws. In the past four games between Wakefield and Yorktown, Wakefield has trounced Yorktown by 104 points, an average of 26 points per game. Needless to say, the Warriors have dominated their cross-town rival, the Patriots, over the past two seasons. The Varsity Basketball team has done well this year. Wakefield's only loss was against Deep Creek High, a school in Chesapeake, Virginia. The team missed 11 free throws, and lost by 13 points. Don't miss any of the games. There are six home games left for the Varsity Boys' Basketball team. The game on Friday, January 17th is a must-attend. It is against crosstown rivals (Why have one, when you can have two?) Washington-Lee. Show your Warrior pride, be there to cheer on #warriornation.
Leave a Comment
About the Contributors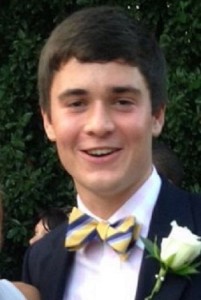 Leo Biette-Timmons '14, Sports Editor
Leo plays varsity baseball and swims. He is the captain of both, and has played each sport all four years of high school. Leo is the head Super Fan,...