All-American Boys Authors Visit Wakefield and Change Lives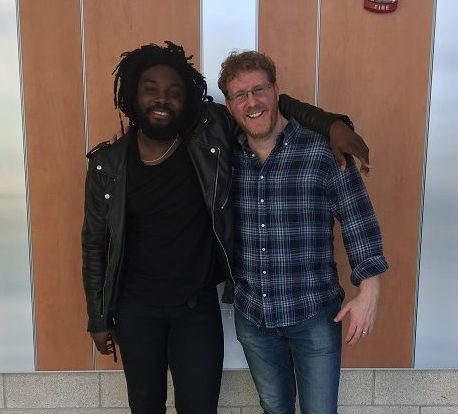 In front of a packed auditorium, junior Prince Milliner stood up and announced that All American Boys was the first book he had ever finished. In an interview with The Chieftain, Milliner revealed that "the book had been recommended to him by Dr. Willmore" and he "really enjoyed it."
When we asked him what was the main factor behind his love for the book, he said, excitedly, that "the main character Rashad… every detail about him I could relate to." Milliner said the best things about the book was "the details on both Quinn and Rashad's side. It's a high school book that everyone could relate to. The characters were just changing in the bathroom and getting ready for basketball practice… it was real."
When he went into the auditorium he wasn't planning on saying anything, but then when it was time for questions, he "wanted to thank them because the book was really interesting. It was the first time I had felt that about a book. I want to reread it. I never thought I would want to reread a book." Milliner said that he has been to see authors in school auditoriums in the past but that he was "always on his phone, and not paying attention…this one…these authors…I really listened to."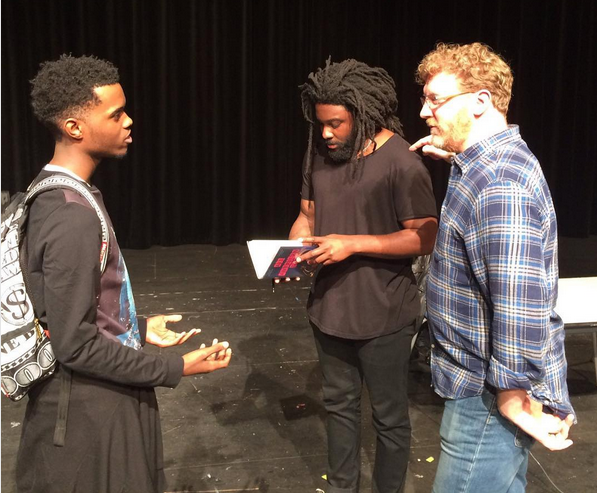 This sentiment seemed to be a common theme among Wakefield students this week. Listening to Jason Reynolds and Brandon Kiely share their personal histories and sometimes-not-so-fond memories was something very raw and real.
Jason Reynolds, who was born and raised in DC, started by sharing a story from when he was 16 and driving in a car full of his friends, when suddenly there's a cop driving behind them. The cop pulls them over and says they ran a red light. The cop asks them to get out of the car, and if they have any drugs in their car, then the cops (and the five other cops that were called for backup) proceed to empty all of the contents of their car on the ground net to Jason and his friends…as the teens are laying on the ground. Luckily? the cops allow them to go, but leave them to clean up the mess the police had made of their belongings and vehicle.
"
Use your power…young folks are on the front line of every single movement. It is amazing the potential you have to make change."
— Brendan Kiely
Brendan Kiely tells a story of when he and his friends were driving down the road and he is, not only speeding but going thirty miles over the speed limit. He gets pulled over, gives the officer his license and registration. After telling a very long drawn out sob story to this officer (about wanting to play mini golf and get ice cream), the officer tells him to "go home, be safe, keep your friends safe." Kiely follows this story by pointing out that to "tell the story of white privilege, [he] must first tell the story of privilege in America."
The duo met when they were on a book publishing tour. They learned that George Zimmerman would be acquitted for the murder of Trayvon Martin, and it was also right at the beginning of the Ferguson Protests. These two men bonded over their confusion and indignation of the injustice that was in the headlines. Jason and Brendan became fast friends, and decided to write All American Boys. "We came to the book wanted to honor the courage of those who who started the #BlackLivesMatter movement… which is young people." Brendan said, "use your power…young folks are on the front line of every single movement. It is amazing the potential you have to make change."
Students had a chance to ask questions after they spoke. These questions were real talk. One student asked Brendan about whether or not he, as a white person, was ignorant about his white privilege before meeting Jason. To which he replied, "there is no bottom, no depth to the amount of ignorance that a person with privilege has" and that he "is still ignorant, and still has a lot to learn" he added that he will never fully "understanding this racial injustice because [he] doesn't experience it in his everyday life."
It was in this moment that Prince Milliner decided to speak. He was in the balcony, and had to yell. At first he was hesitant because he didn't have a question, he just "wanted y'all to know that I'm sixteen and this is the first book I have ever completed." The ENTIRE auditorium applauded. It was a special moment for Wakefield and Milliner who just transferred here this year from W-L.
Once the applause died down, Jason Reynolds said how it would be "easy for people to say that we're anti-police, but we're not. We're anti-police brutality" and "we're challenging you to be anti-police brutality and encouraging police to be anti-police brutality."
Both Brendan and Jason agreed that if you want to do something to make a change, other than just talking about it, you "should start in your own community."
In an interview after their presentation, I asked Brendan and Jason who their favorite character were, aside from Rashad and Quinn. Jason Reynolds said that "Mrs. Fitzgerald was his favorite because she brings a really stark reality to the story, because there's an assumption that victimized people are ready to fight, but really they're afraid. Which is a reality that shouldn't be ignored." While Brendan Kiely liked "Guzzo because a lot of people, when they hear that their heroes aren't so great, they get defensive."
When asked where the inspiration for the line "RASHAD IS ABSENT AGAIN TODAY" Brendan said that it's from his days of being a teacher and "someone was absent, you would notice but not know why, and that's the point of the book…Rashad isn't there…it's for the kids who are no longer here" to which Jason added that the line is for "the kids who should be in school, but aren't… and never will be again."
Thank you, gentlemen. You have changed Wakefield with your visit. It all started with a book.
Now, Wakefield. It is your turn…what are you going to do to continue what they started?
Leave a Comment
About the Contributor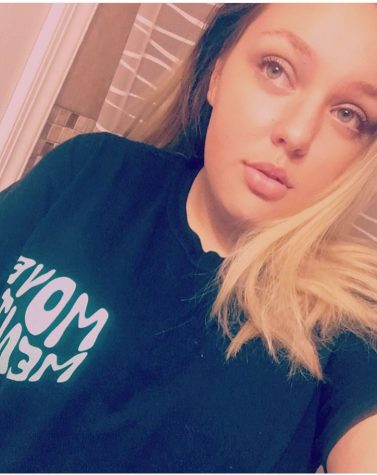 Destiny Heid '17, Editor In Chief
I'm Destiny, and I'm the Editor in Chief. I like sunsets, milkshakes, and poetry (sometimes writing, but then again, sometimes not).