Student Spotlight: Cierra Jenkins Sprints to States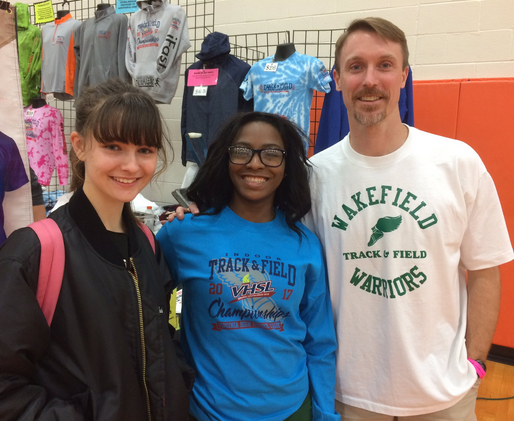 Cierra Jenkins has been running since she was three years old. "My mom told me that I never walked, I just ran. I have always competed with my brothers and sisters in sports. That pushed me to do better. I would always lose because they were older and faster than me. I just kept trying." Her sister, Nahdeya, played soccer, track, basketball, football, and gymnastics. Her brother, Devin, played football.
"I was always competing with them. I didn't realize how good I was at track. Once I got to high school, I realized I was actually good at this sport. It made me try harder."
Last year, as a sophomore, Cierra made it to States for the 500. This year she made it to States for 3 events: the 300, 55, and long jump. "I don't like the long jump. It hurts my knees and my hips." She has to be taped before every event.
When talking about last Friday and Saturday, Jenkins said, "States is so different; anything can happen. I just went out and did my best and did not let anything get to me." Sage advice for life. Compare yourself to yourself, not others.
What has her time at States helped her to realise? "I guess it has helped me realise that I can't be the best…but I can do MY best….when you run against people from down south you realise that there are people who are faster…way faster…Track is a disciplined sport…you have to want to do it…in order to do track I have to do good in school…my mom says…A and Bs, or no sports…" That is strict discipline, indeed.
Cierra had one day off, yesterday. What is she doing now? Outdoor track. The biggest difference between indoor and outdoor track? "Outdoor track is the distance…outdoor track is longer…and the weather…with outdoor track it gets super hot. I drink A LOT of water…I don't overdress…I try to keep my body really healthy…it is hard to sprint so that I have enough energy to perform my best."
What is she focusing on this season in Outdoor track? "I am just trying to strengthen my core so that I don't injure myself."
Why does she run track? "Every one thinks that because I run track that I want to go to the Olympics…I am not even out of high school yet…and I am injured…of course I want to run in college…but my long term goal is to study kinesiology (sports medicine)."
What advice does Cierra have for anyone trying out for Spring Sports? "Don't do it because everyone else is doing it…do it for yourself…whether you win or lose is only on you."
Cierra Jenkins caps off the indoor season at states with a PR in the 300m of 42.23. Congratulations, Cierra!
Leave a Comment