Road To States: Our Boys Head Down Ready To Fight !
As our boys begins their trek down to Hampton to capture that elusive state title, lets look at the road that got them to this point. We know our boys; they aren't going to give up until the clock runs out.
On the 17th of February our boys took on rivals Marshall, for the Conference 13 Championship. The game started as every Wakefield-Marshall game goes. No one had a large lead through out the game, it was a really a back and forth effort from both of the teams.
We battled and battled and never gave up. But the drama came in the fourth quarter. A 40-40 tie with 3.5 seconds left Coach Bentley calling a timeout. After the timeout, our senior superstar Alan Treakle took the ball from half court drove down the lane while taking on two defenders and made the buzzer beater to win the game 42-40!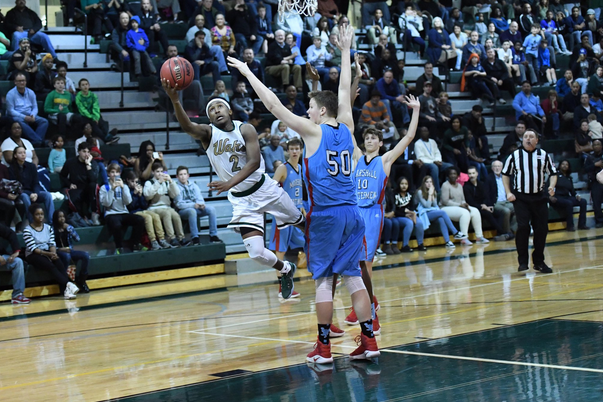 Stand out performances from sophomore Chris Warner scored 20 points going 5-7 from the three point line and grabbing 4 rebounds , junior Mahmoud Eltaher was a rock defensively grabbing 10 rebounds and blocked 2 shots and Alan Treakle finished the night with 11 points and 6 assists!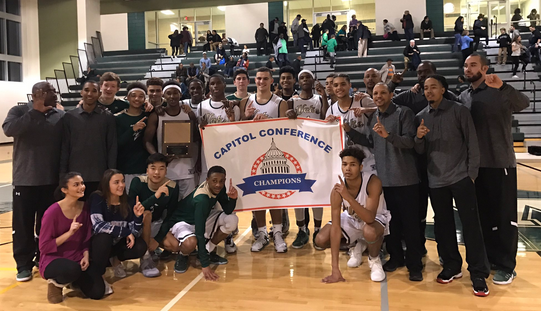 We continue our journey to states against the North Stafford Wolverines. Our Warriors head into the game an amazing 20-4 and North Stafford coming into this game with a record of  14-3.
On February 21st, our boys basketball team played and beat the North Stafford Wolverines 59-56 advancing to the state semi-finals! Chris Warner was on fire! Scoring 16 points and looking like Steph Curry from behind the three point line! Our Boys battled hard through this super intense game! It went back and forth and there were moments when it looked like our boys may not pull through but they never gave up and believed in each other and in their team.
Sophomore Chris Warner led the team with 16 points, junior Amari Cooper scored 13, and senior "Swaggy HP" aka Halil Parks once again had an impressive game scoring 12 points! Junior Mahmoud Eltaher was sound defensively and made sure we won that game with his defensive contributions.
Chris had this to say about the game and his performance, "You gotta play every game like its's your last if you wanna win a ring 💍💯 💪🏻 🏀!"
On the 23rd, our boys moved on to play @ Albemarle High School in Charlottesville. Albermarle was be a tough opponent; they have an impressive record of 25-2 but its nothing our boys couldn't handle! The game started off really well! Our boys were leading 39-34 at half time but we couldn't keep up the tempo and we were out scored in the second half, 48-31. We lost the game 82-70.
In scoring, our boys were led by senior Halil Parks who scored 20 points, junior Amari Cooper scored 19, and senior Alan Treakle scored 16 points! This was a tough loss for our Warriors, but they didn't lose any faith and went into the game against Potomac Falls hungry for a win.
On the 25th, our Warriors played the Potomac Falls Panthers, and we showed that even after a tough loss we can come together and show up and dominate. We played the Panthers for the 3rd seed in the state tournament. Our boys showed the true meaning of being a Warrior and won the game 71-55.
Wakefield was led in scoring once again by senior Alan Treakle who scored 31 points and was a perfect 3 for 3 behind the three point line! Other stand out performances where from senior Halil Parks who scored 14 points and junior Amari Cooper who dropped 9 points, grabbed 9 rebounds, and had 2 blocks!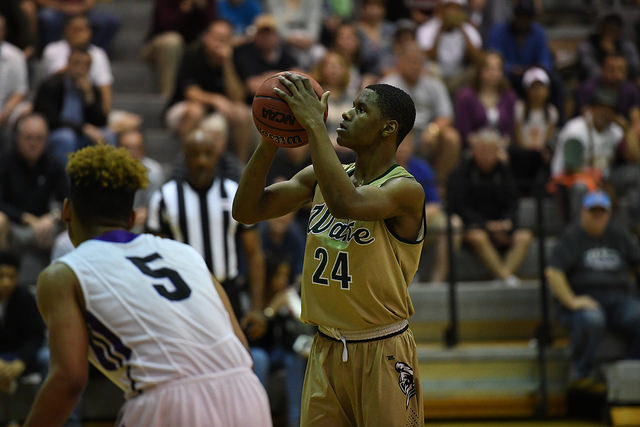 Our boys move into the state tournament as the third seed and will be playing Bethel High School from Hampton in the quarterfinals on Friday March 3rd at Hampton University at 7:45pm. The superfan buses leave at 2pm on Friday. GET YOUR TICKETS FOR THE BUS TODAY in TOWN HALL!
Our record heading into the tournament is an amazing 22-5  and this will be our 6th state tournament run since 2005. Come and support our Warriors as we continue on the final leg of our journey.